Posted by Mount This Fish Company on Sep 18th 2023
Mount This Fish Company's Full Mount Custom Painted Fish Mount Proofing
Thank you for choosing Mount This Fish Company to create your custom painted full mount fish replica. We value your trust and are committed to delivering a lifelike, accurate depiction of your prized catch. In order to streamline our processes and enhance convenience, we have decided to consolidate our project updates into a single blog post, allowing you to easily review the progress of your replica. This blog post will serve as a dedicated platform where we post the pictures for your review and approval. To ensure confidentiality, we will use the invoice number provided at the time of purchase to title each picture review.
Reviewing Your Photos: Your satisfaction is our utmost priority, which is why we encourage you to carefully examine the photos we provide. These images serve as a visual representation of your customized replica and allow you to provide your valuable feedback. To initiate the review process, please send an email to proofing@mountthis.net, indicating your approval for shipping or any suggested revisions you may have.
Important Considerations: Before submitting your approval, question, or revision request, we kindly request that you read the following information:
Attention to Detail: At Mount This Fish Company, our talented artists meticulously study your reference photos to expertly recreate the details of your catch. However, please note that not every spot, marking, or blemish will be included in the replica unless specifically requested and confirmed beforehand.
Lighting Conditions: In our endeavor to provide you with the best possible visuals, we strive to capture the photos outdoors. However, residing in Florida means we often contend with unpredictable weather, which sometimes necessitates capturing the images in our well-equipped paint booth. Regardless of the location, please be aware that white glare marks may appear due to the reflection of sunlight or paint booth lighting. We employ multiple angles to minimize the impact of glare, ensuring a comprehensive view of your replica. Their may occasionally be a photo of the replica inside as well, this is due to the fact that when we use metallic paints they overall color outside in the sun will look much lighter and brighter then how the fish mount will look inside so we showcase one image where you can see more of the dark, natural, indoor look as if its in your home.
Submitting Revision Requests: If you wish to request revisions to your replica, we are more than happy to accommodate your preferences. However, please understand that the revision process may take between 1 and 4 working days to provide you with an updated proof. We are dedicated to ensuring your complete satisfaction and will work diligently to incorporate your desired changes.
Conclusion: At Mount This Fish Company, we are committed to delivering exceptional craftsmanship and personalized service. By consolidating our project updates into a single blog post, we aim to simplify the review process for our valued customers. We encourage you to review the photos posted here and reach out to us at proofing@mountthis.net with your approval or any suggested revisions. Your feedback is crucial in creating a stunning and lifelike full mount fish replica that exceeds your expectations. Thank you for choosing Mount This Fish Company, and we look forward to bringing your vision to life.
Invoice # 23278 - Northern Pike are known for their distinctive appearance. They have long, torpedo-shaped bodies with greenish to olive coloring and a mottled pattern of light spots on a darker background. They can grow to impressive sizes, with some individuals reaching lengths of over 40 inches (100 cm) and weights exceeding 20 pounds. To see other Northern Pike we produce please see our Northern Pike Category.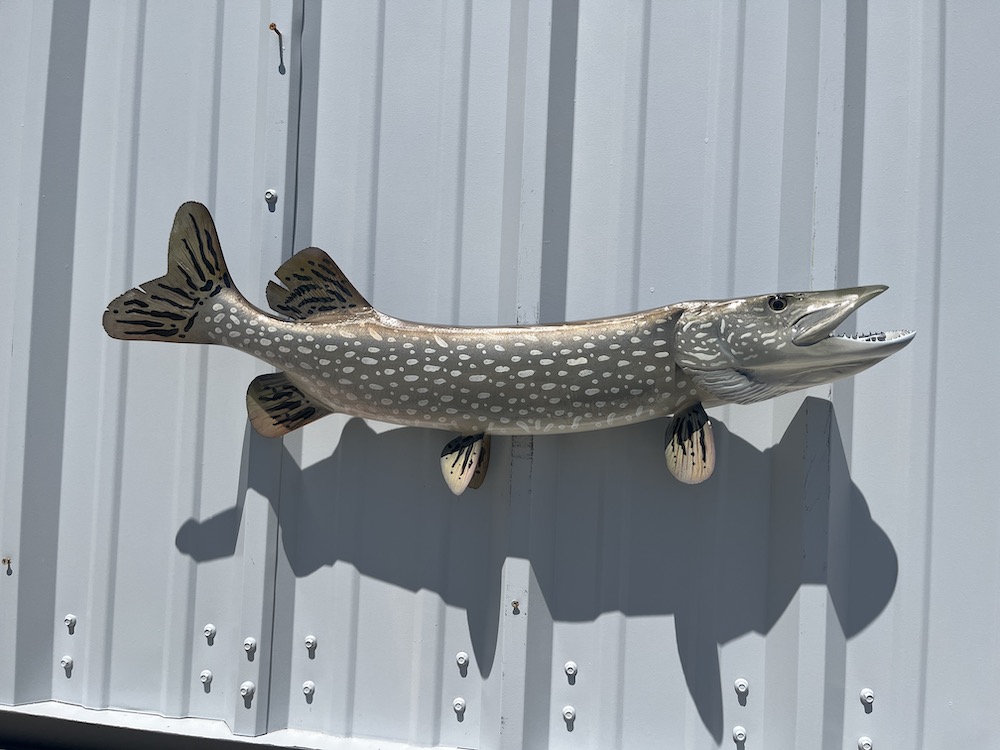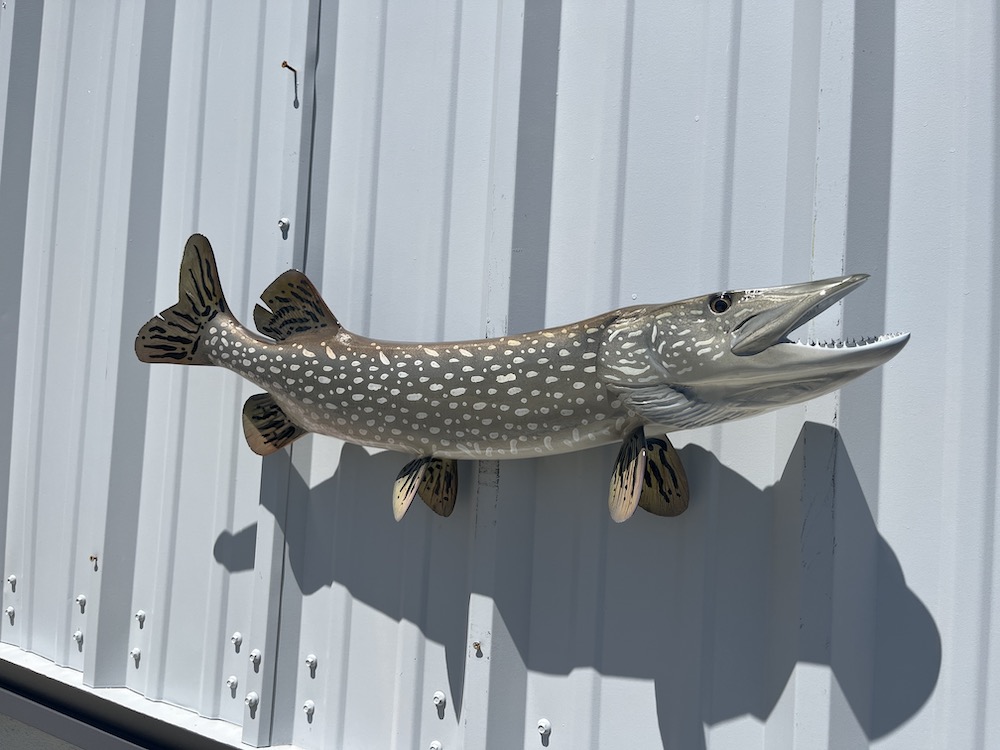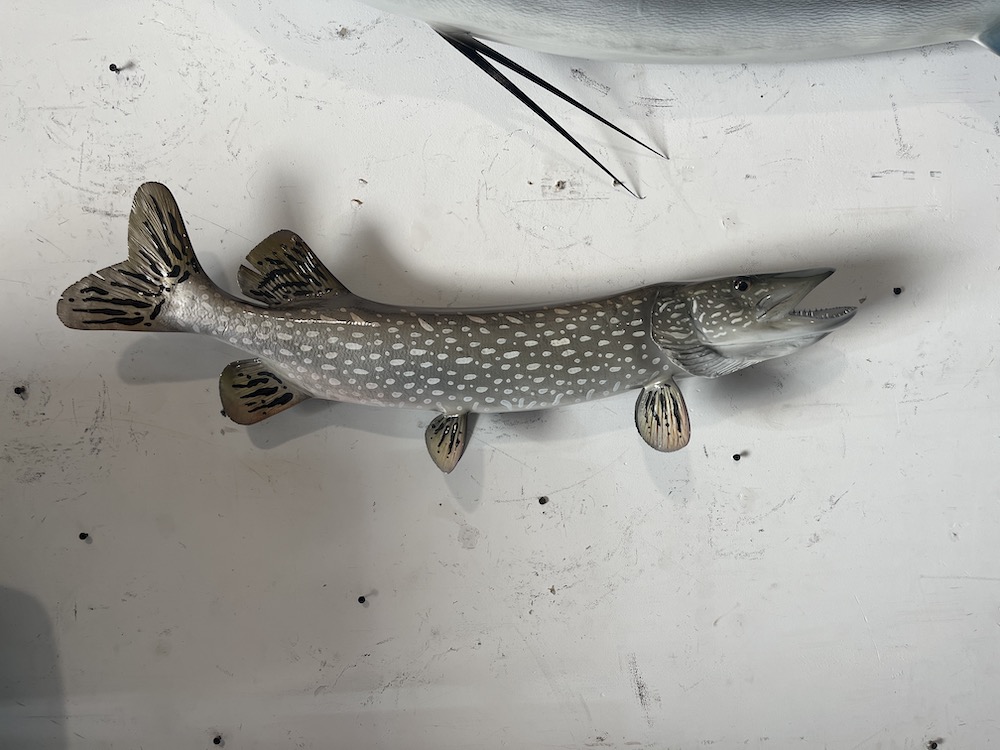 Invoice # 23253 - Largemouth bass are a highly sought-after freshwater game fish native to North America. These fish are renowned for their impressive size potential, with some individuals growing to lengths exceeding 2 feet and weighing more than 20 pounds. One of the defining features of largemouth bass is their preferred habitat. They are typically found in slow-moving or still waters, such as lakes, ponds, rivers, and reservoirs. These fish are especially fond of areas with submerged structures like fallen trees, underwater vegetation, or rocky formations, which serve as ideal ambush points for hunting. Largemouth bass are known for their opportunistic feeding behavior. They have a diverse diet that includes other fish, insects, crayfish, and occasionally even small mammals or birds that venture near the water's edge. Their hunting strategy involves lying in wait for prey to pass by and then striking with a sudden burst of speed, aided by their large mouths and sharp teeth. This ambush-style hunting makes largemouth bass a challenging and exciting catch for anglers and contributes to their popularity among recreational fishermen. our Largemouth Bass Category.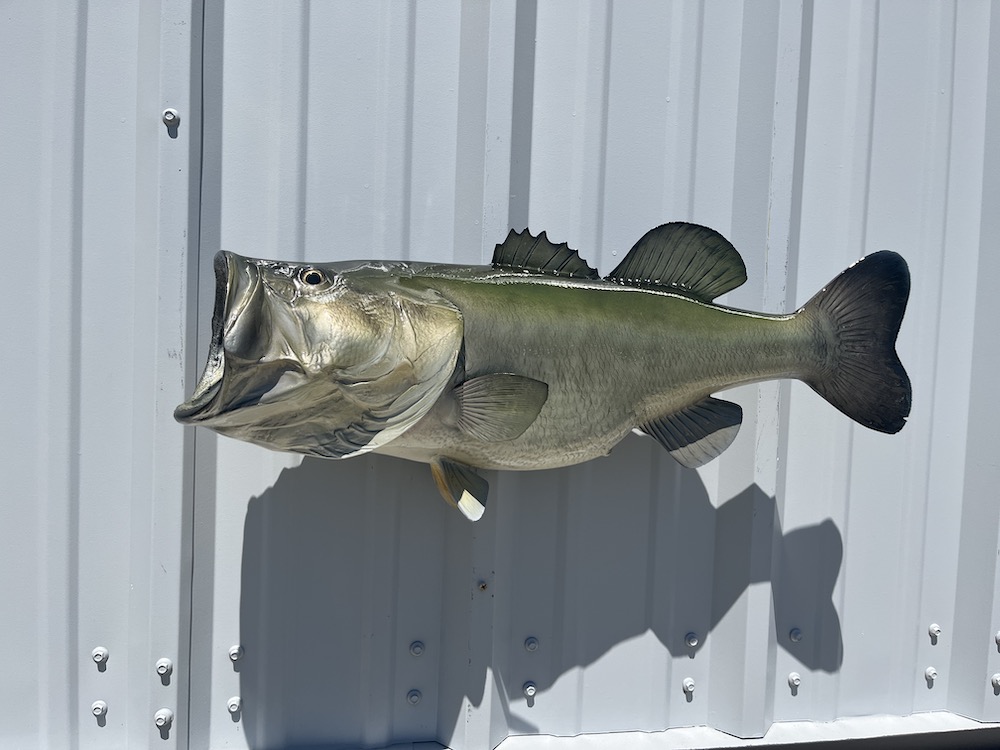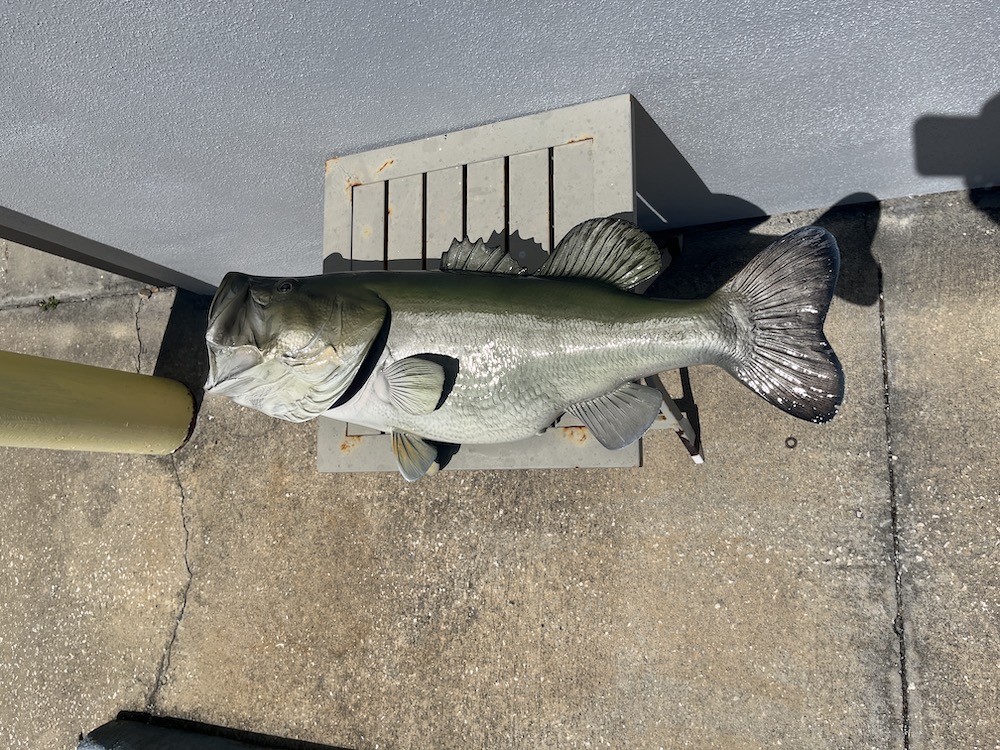 Invoice # 23146 - Check out the subtle coloring on this giant muskie that was caught by one of our awesome customers. She sent us a photo reference and this fish's markings were very soft leading to the base of the tail and then they darkened a bit. The muskie, or muskellunge, is a species of large freshwater fish native to North America, known for its elusive nature and striking appearance. With a sleek, torpedo-like body and sharp teeth, it's a top predator in its habitat, and its impressive size and strength make it a prized catch among anglers, often referred to as the "fish of ten thousand casts" due to its rarity and the challenge it poses to fishermen. To see all the muskie fish mounts we produce please visit our Muskie Category.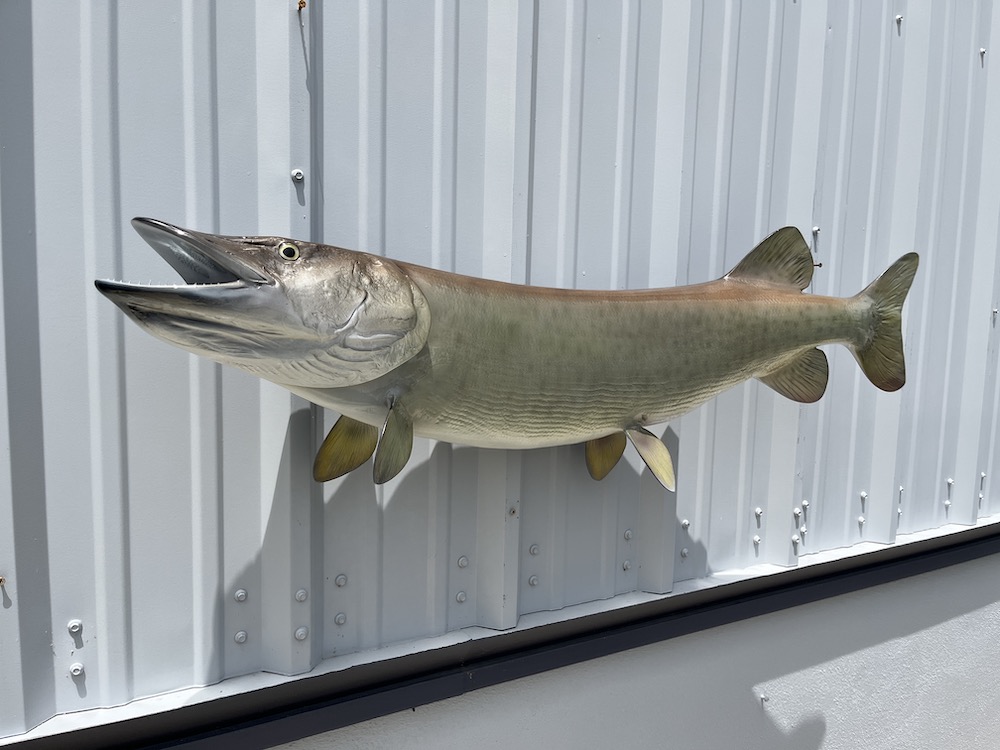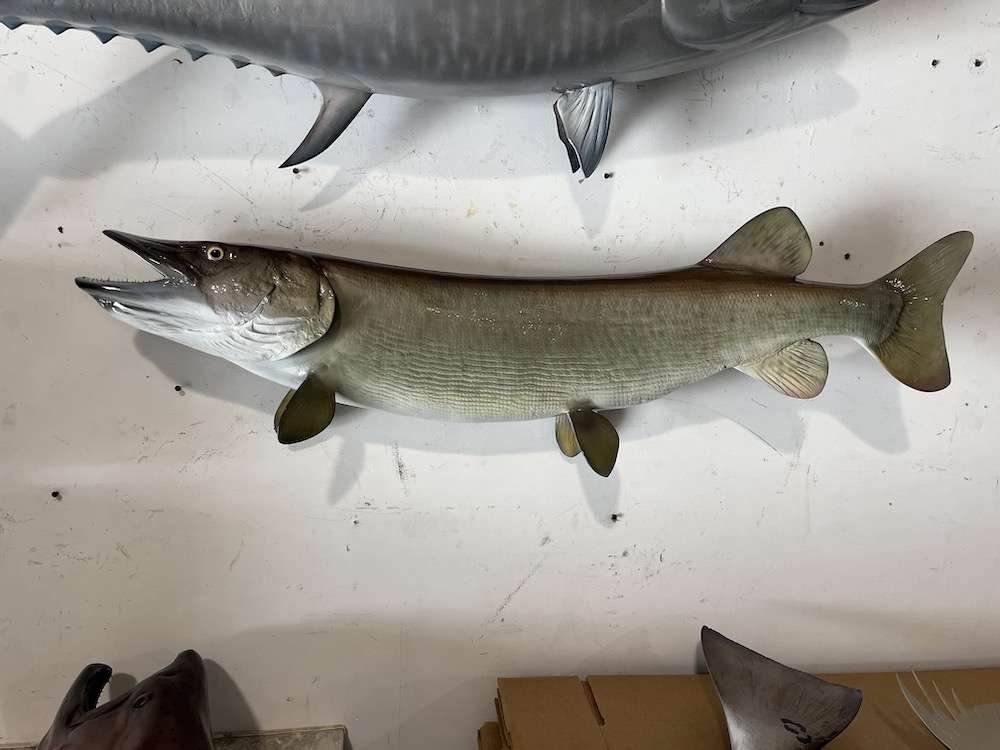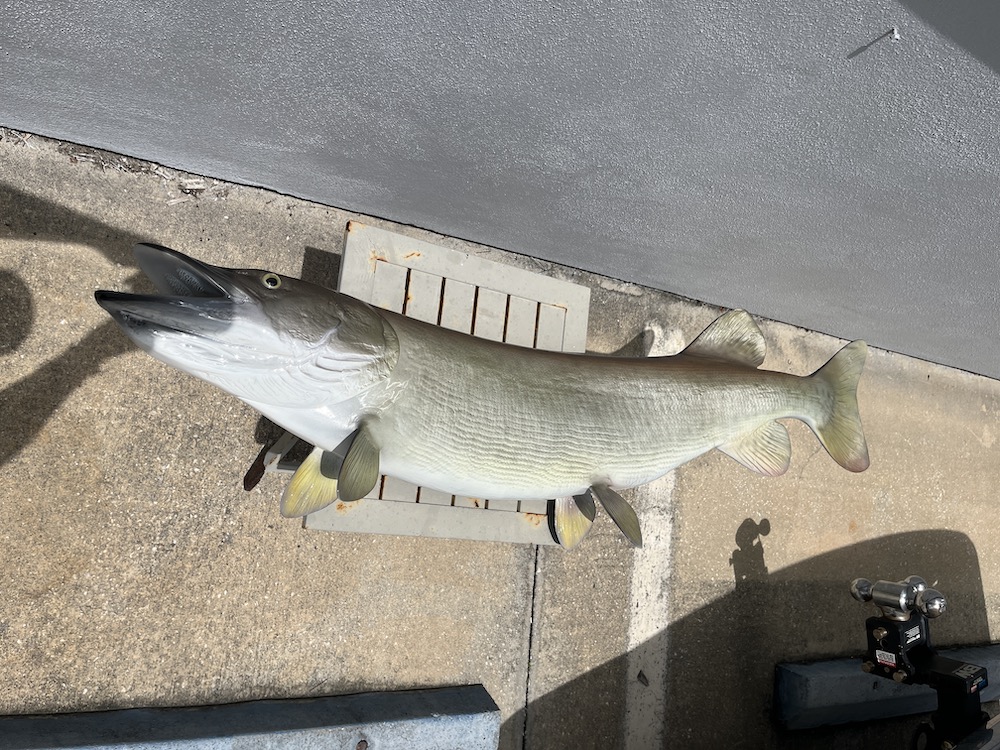 Invoice # 22960 - Here's one of those fish that really takes some extra time to get right. So many yellow markings that arent really spots or dots, but all unique is shape and size. This 37" tilefish mount was custom painting from customer provided catch photo. We've shown both inside and outside so customer can see all the colors clearly in the outside photos but then a more realistic actual color scheme shown inside with average lighting.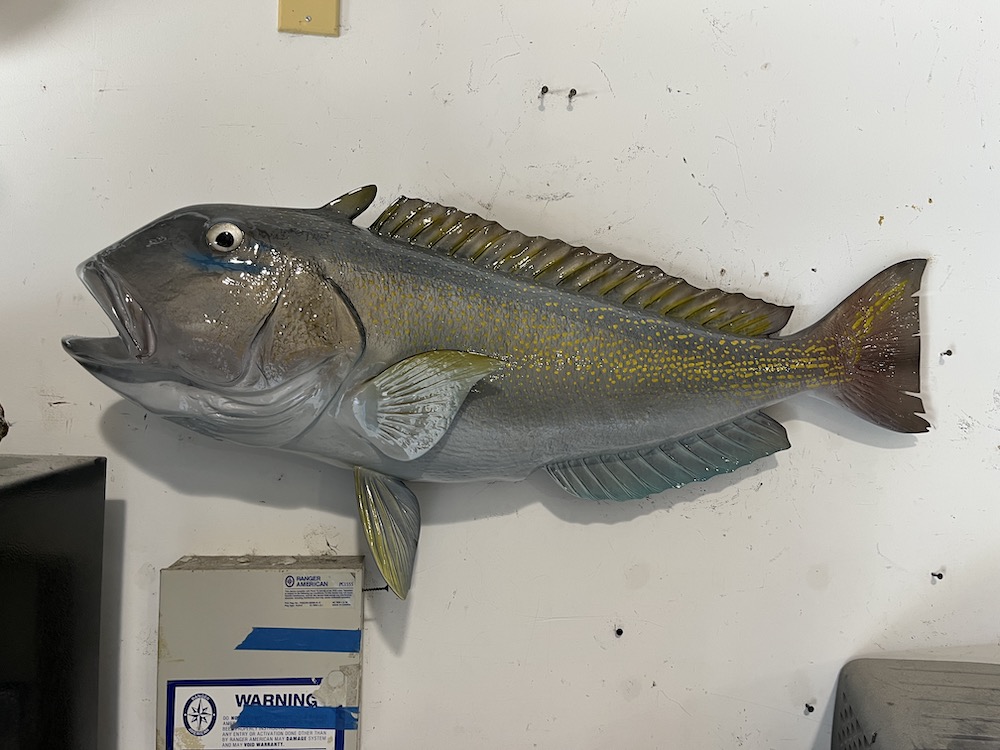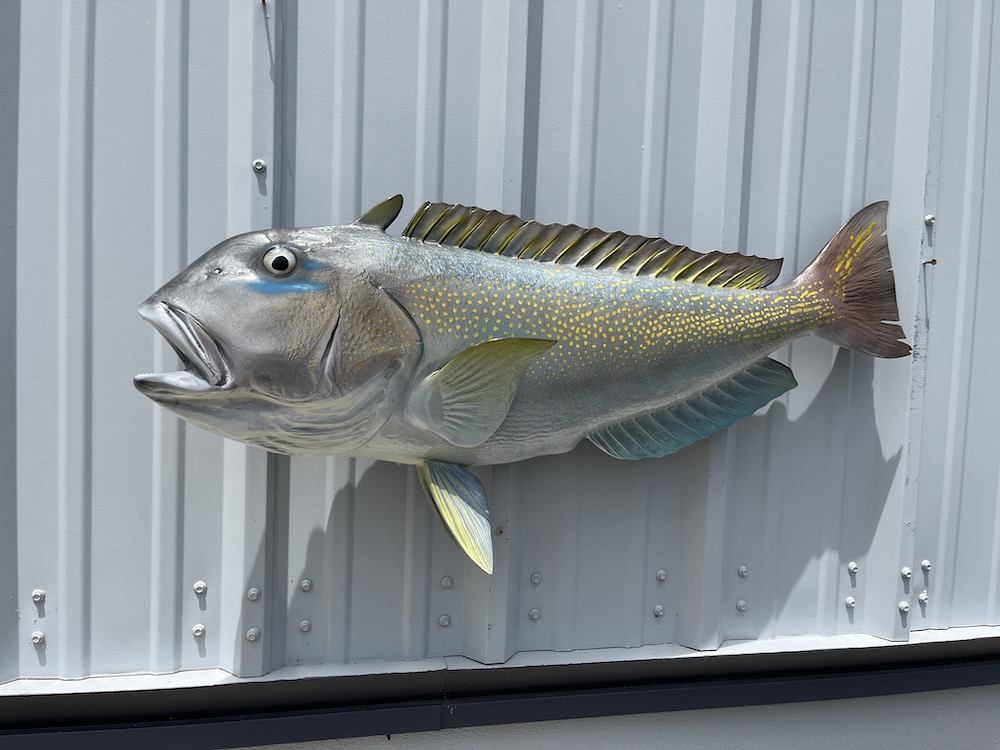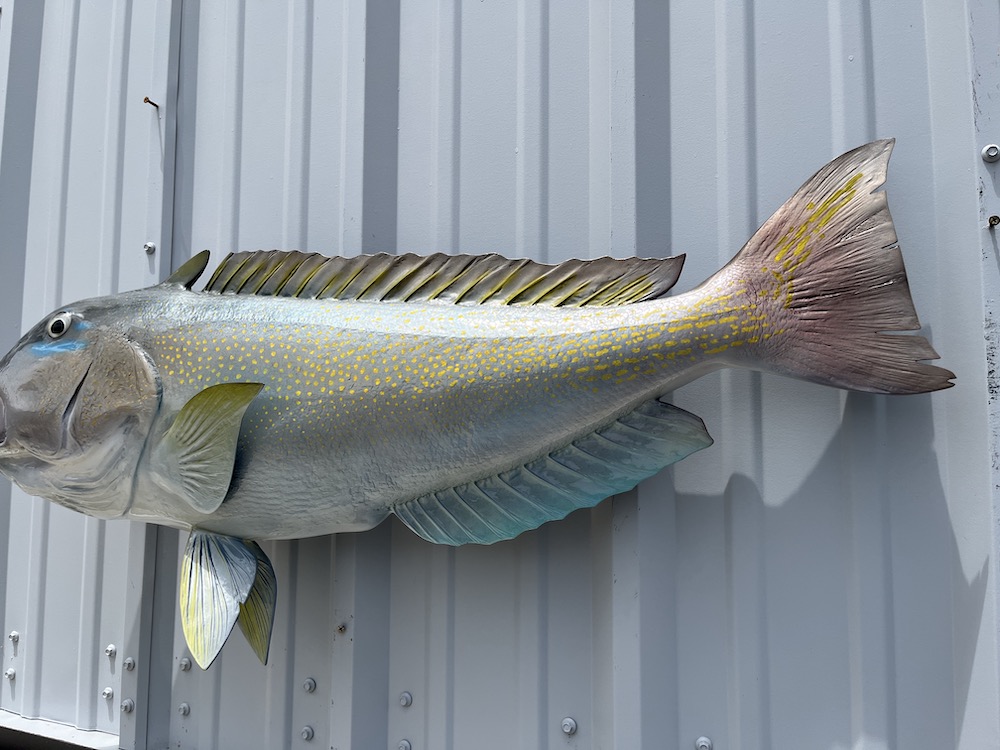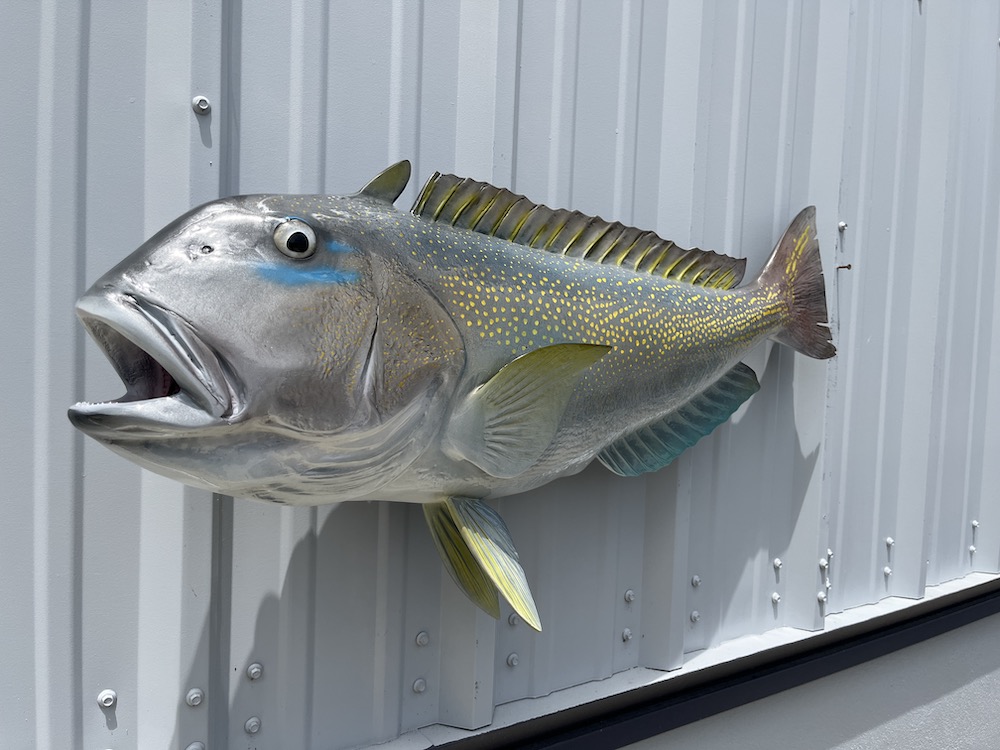 Invoice # 23071 - Roosterfish are so dang cool, aren't they? This 37 inch Roosterfish mount was finished based off a customer provided catch photo. Shades of green and blues were used to really bring out the iridescent colors that these magnificent fish showcase when pulling them out of the water. Roosterfish is a popular game fish known for its distinctive seven long, spiky dorsal fin rays that resemble a rooster's comb. Native to the eastern Pacific Ocean from the Gulf of California to Peru, it's a powerful swimmer and is often pursued by sport fishermen for its fighting ability. Mount This has a wide variety of Roosterfish mounts and if you are interested in learning more about them please visit our Roosterfish Mount Category to view all the Roosterfish replicas we have available.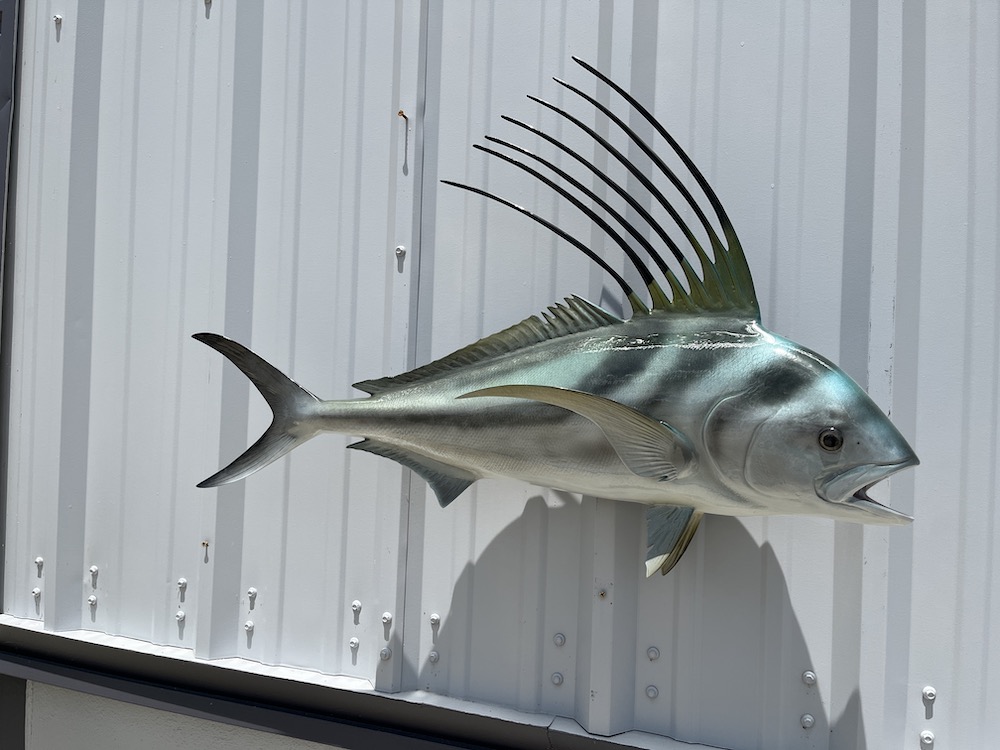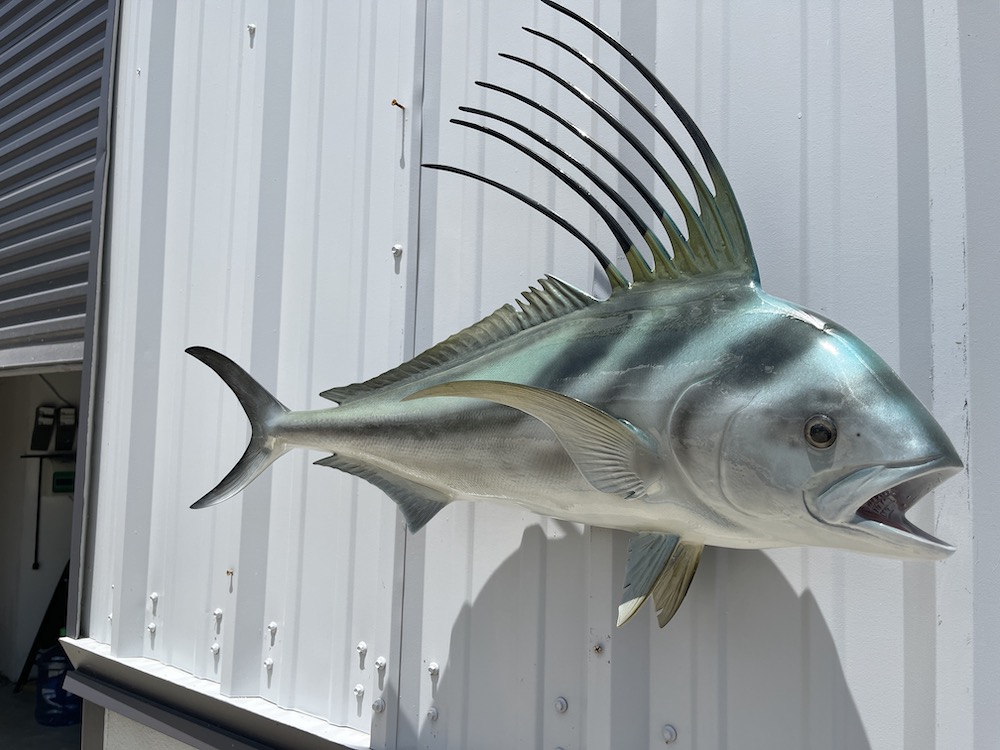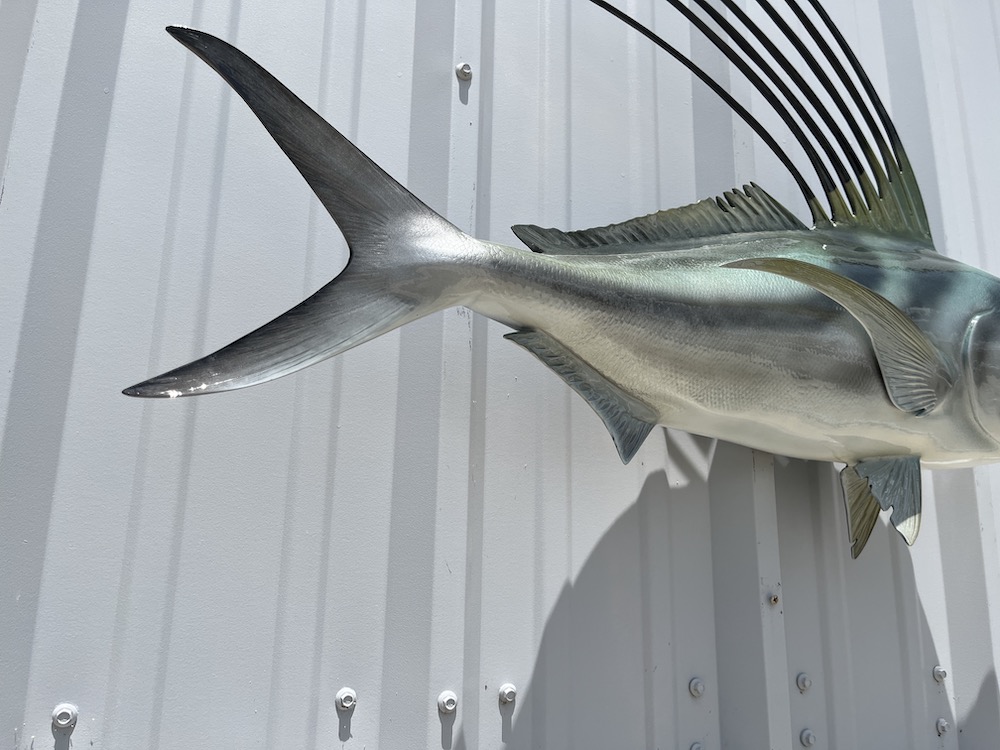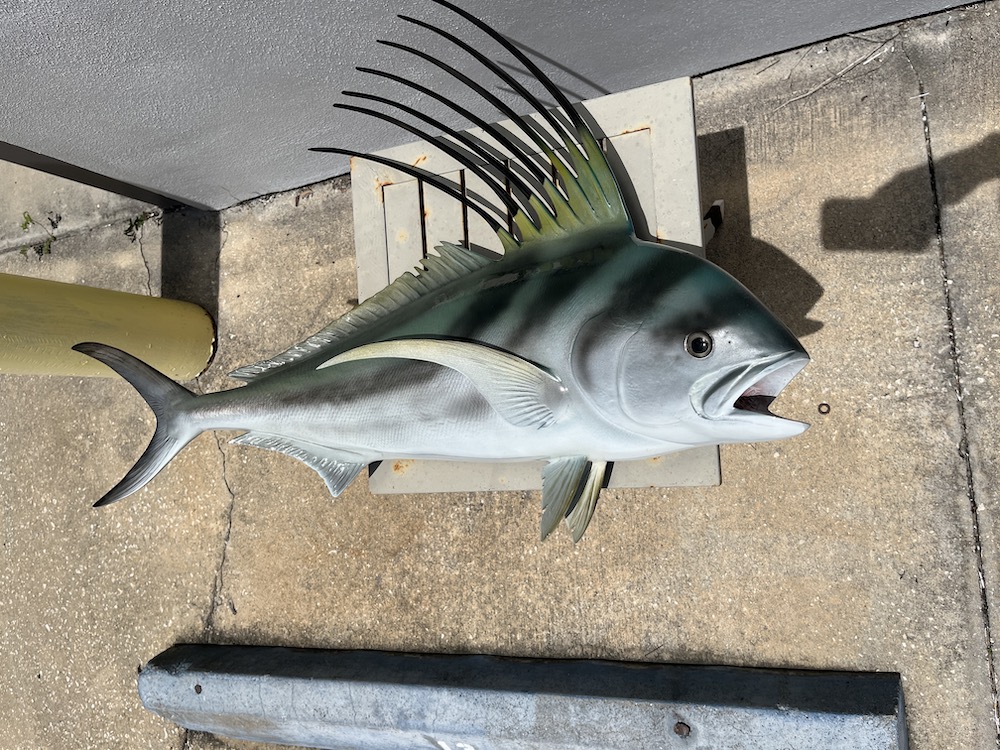 Invoice # 23157 - Congrats to the angler who caught a beautiful bull redfish and we appreciate the ability to replicate this 40" Redfish mount. The particular redfish had 3 spots that almost created a circle on the base of the tail. Mount This has a wide variety of redfish mounts and if you are interested in learning more about them please visit our Redfish Mount Category to view all the Redfish replicas we have available.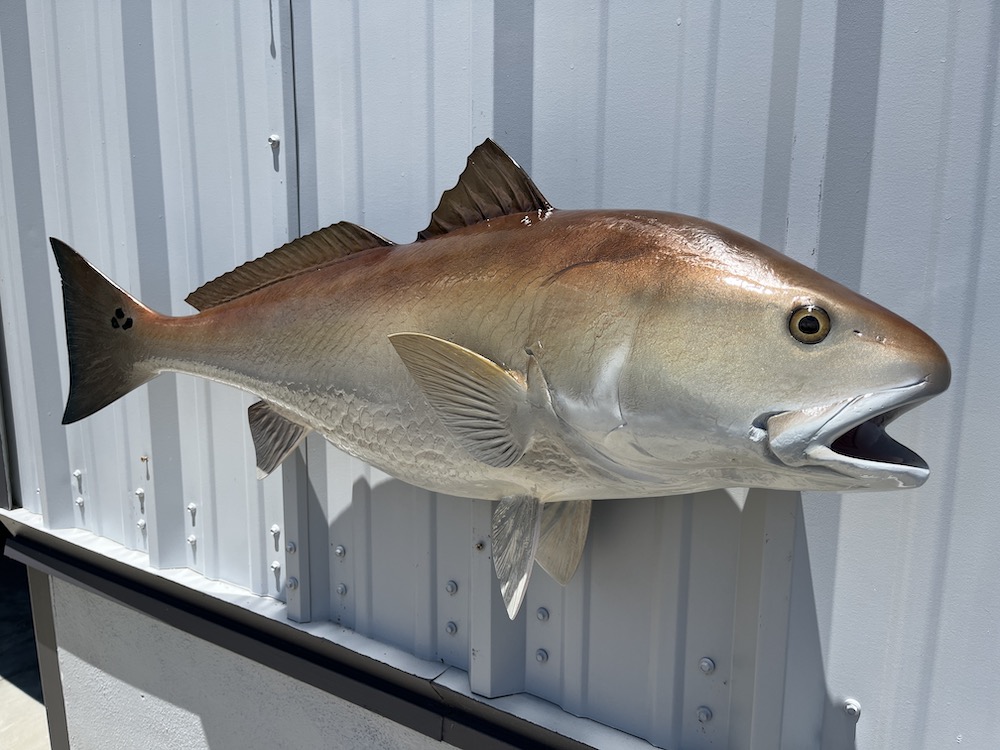 Invoice # 23155 - This beautiful Red Snapper was caught by one of our customers and this particular red snapper had some type of wound on its gill plate and the customer requested we include this into the finishing of the red snapper replica. This time of the year we are incredibly busy with red snapper fish mounts as many Floridians and Gulf States anglers catch their personal bests since the harsh regulations with short seasons were put in place. If you are interested in seeing more of our red snapper mounts please visit our Red Snapper Mount Category to view all the Redfish replicas we have available.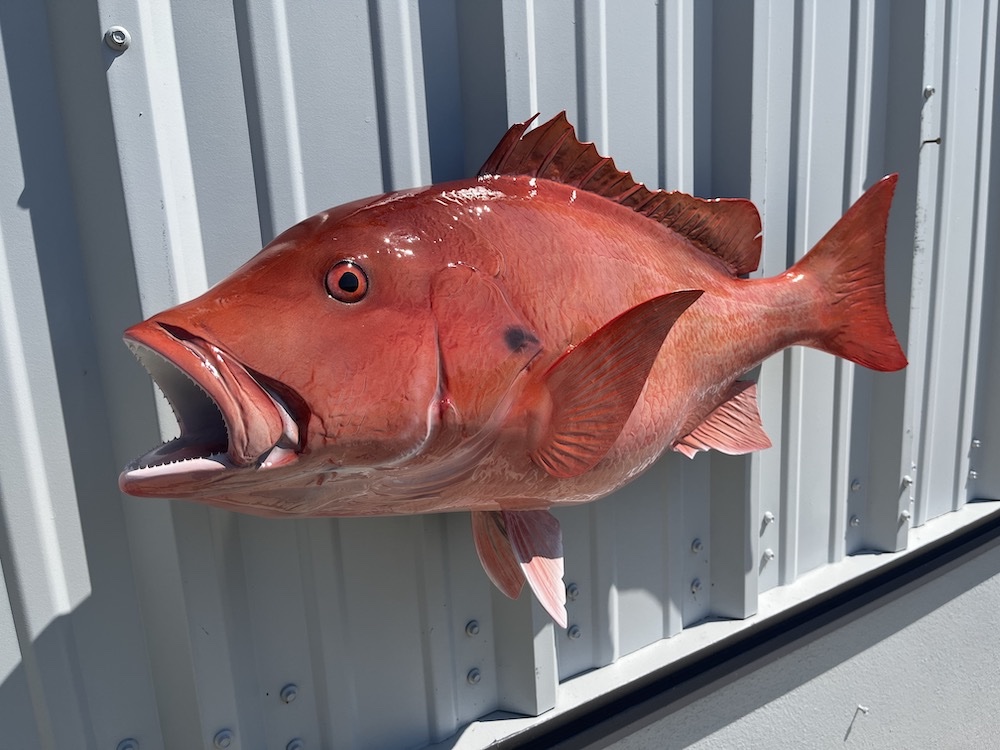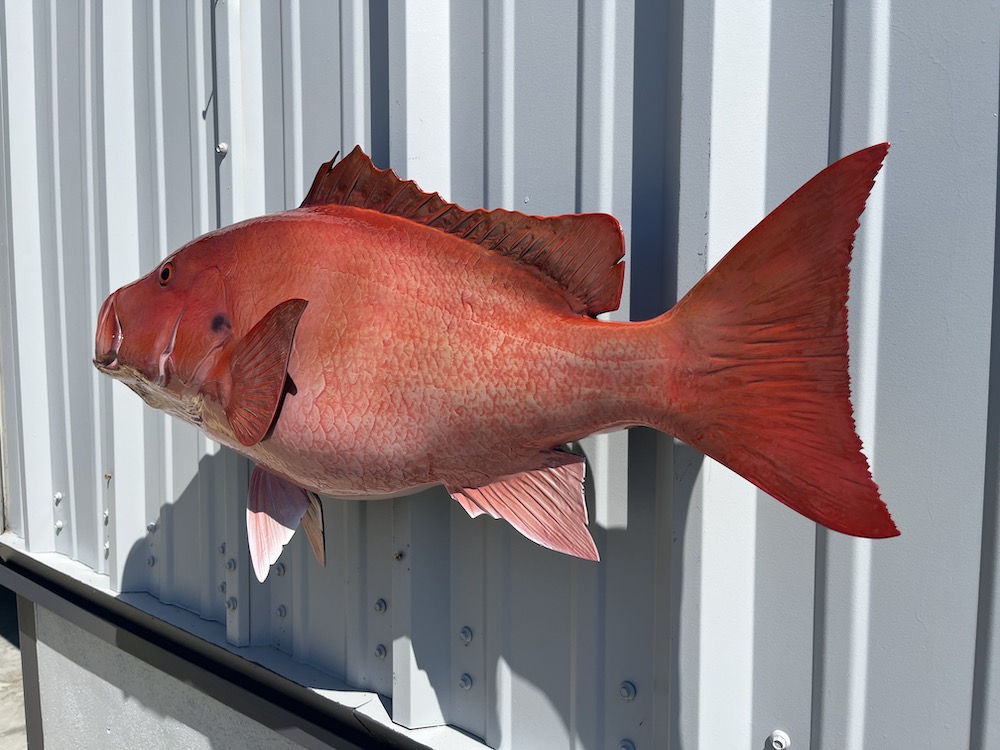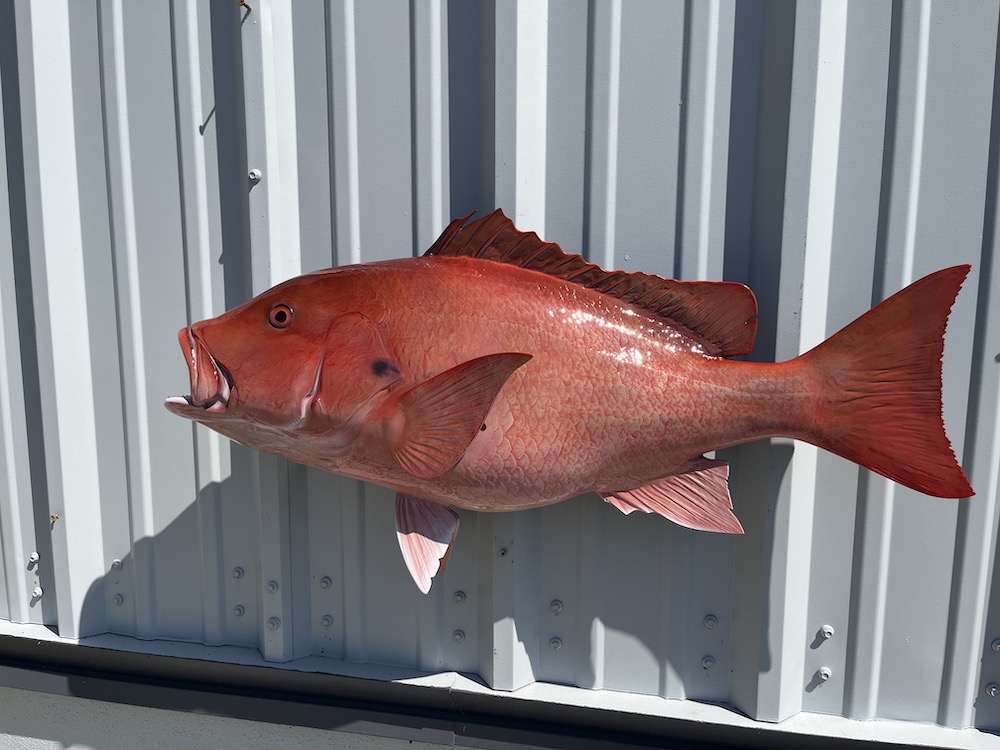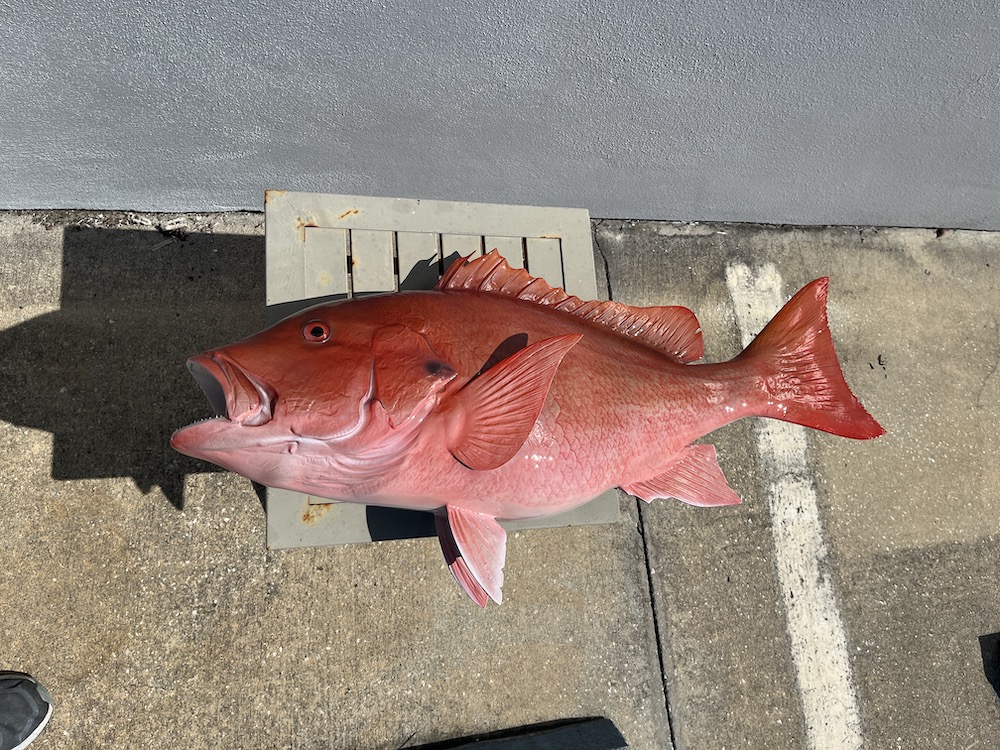 Invoice # 23150 - This giant 48" Redfish fish mount, was caught by an angler from Indianapolis, Indian. We have included both inside and outside pictures to show the highlights and detail from the outside pictures but also to see the true indoors look it will have when displayed inside. Here in the Central Florida we have a large population of Redfish and they can be found in both the Indian and Banana Rivers, in the beach waters of the Atlantic Ocean and in their sanctuary hideaways like the Mosquito Lagoon. Please visit our Redfish Mount Category to view all the Redfish replicas we have available.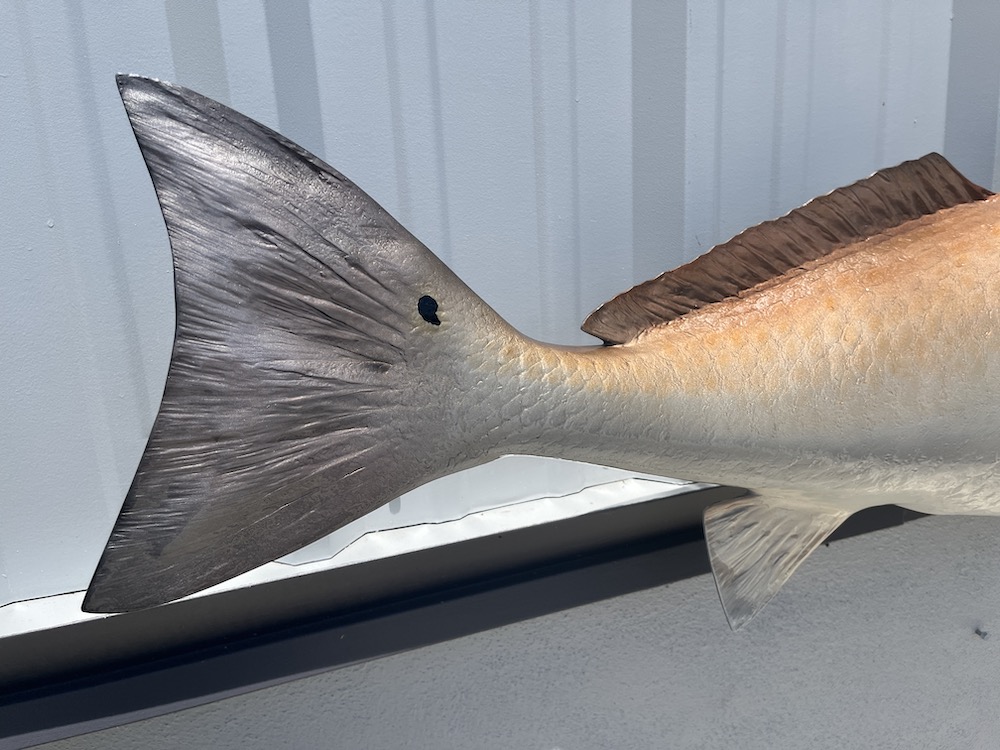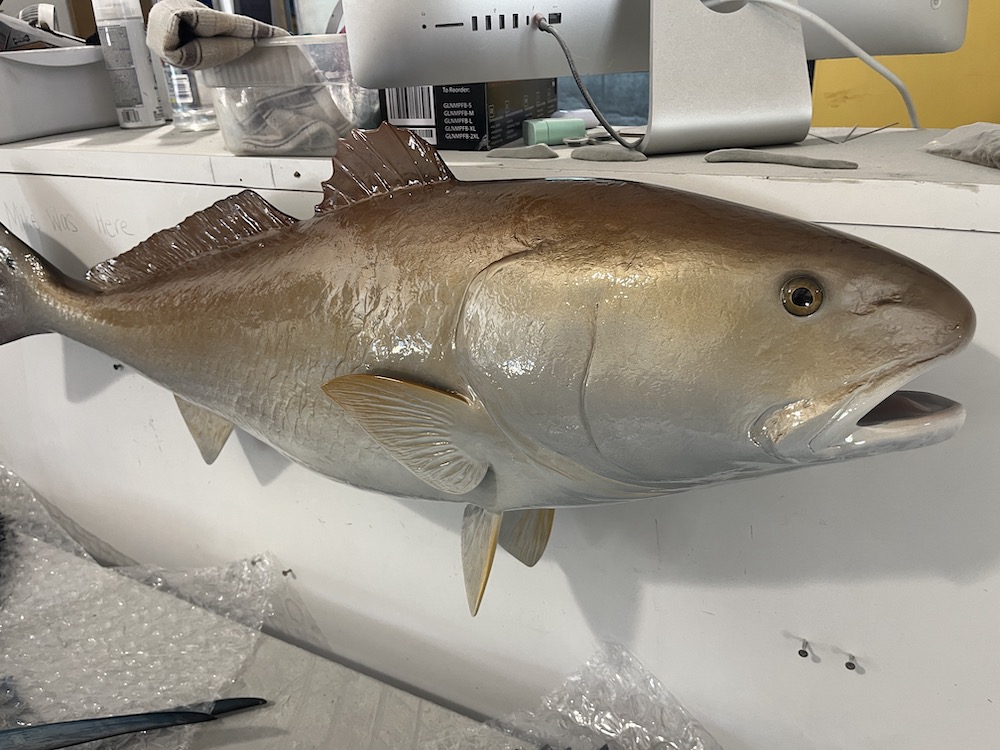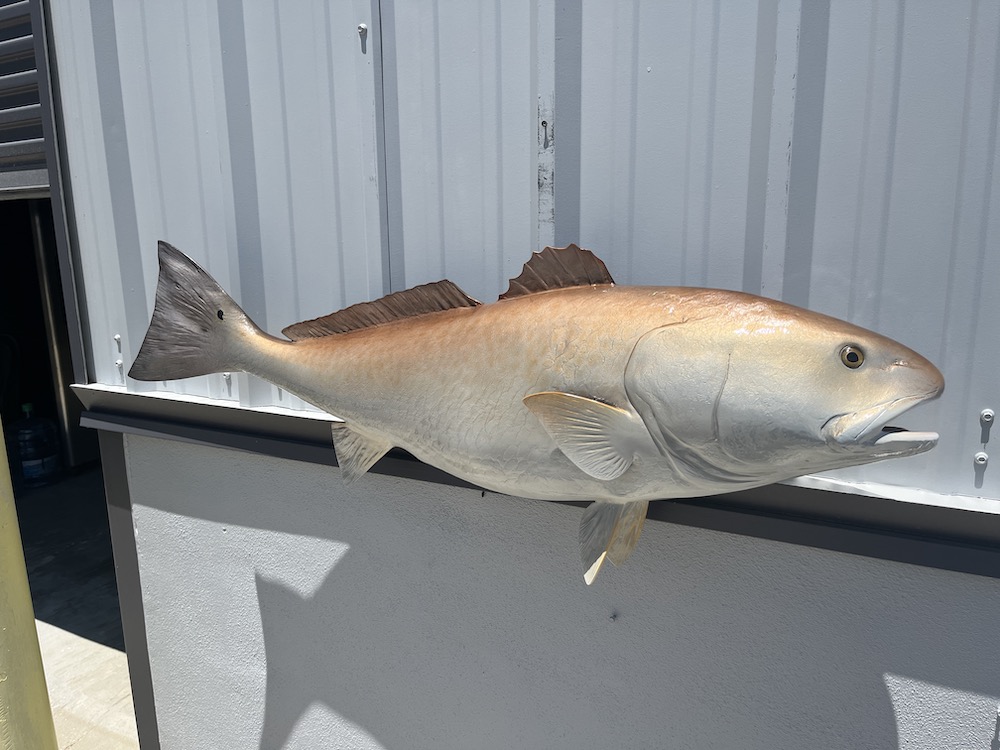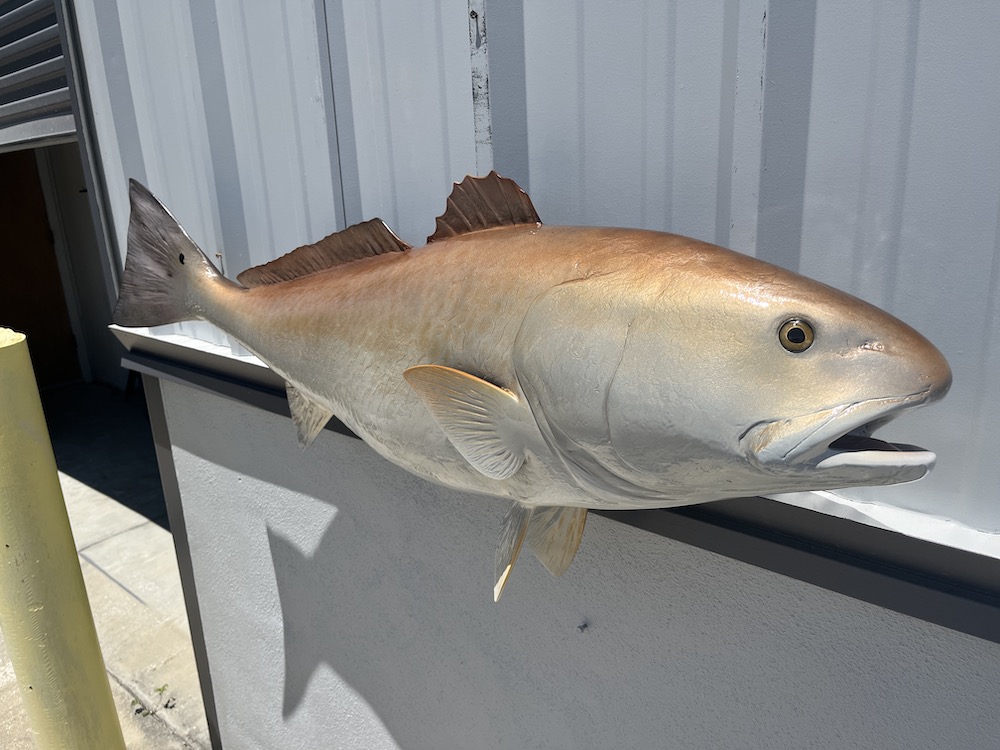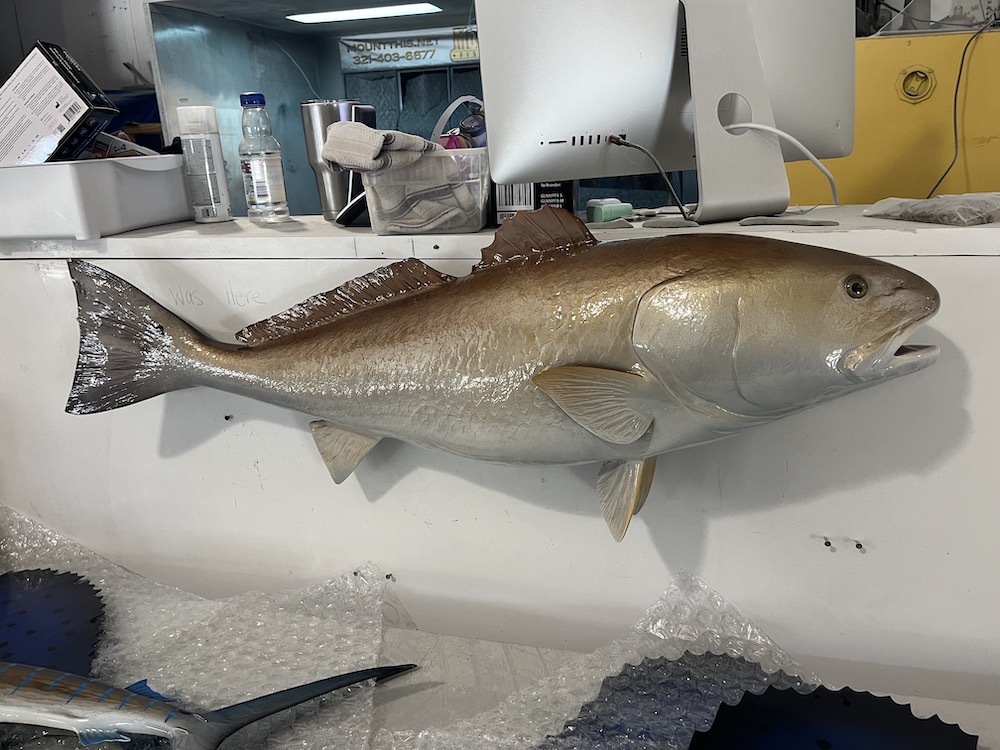 Invoice # 22963 - This 49" King Mackerel fish mount, known in our local waters as a Kingfish, was custom painted from the customer provided catch. Here in the Central Florida Atlantic waters kingfishing is a popular activity for offshore anglers. The most productive format of fishing for these lightning fast fish is to catch live bait and to slow troll the baits over difference structures holding these fish. The arial display these fish put on when the bite is hot is something an angler can never forget. Please visit our Kingfish Mount Category to view all the kingfish replicas we have available.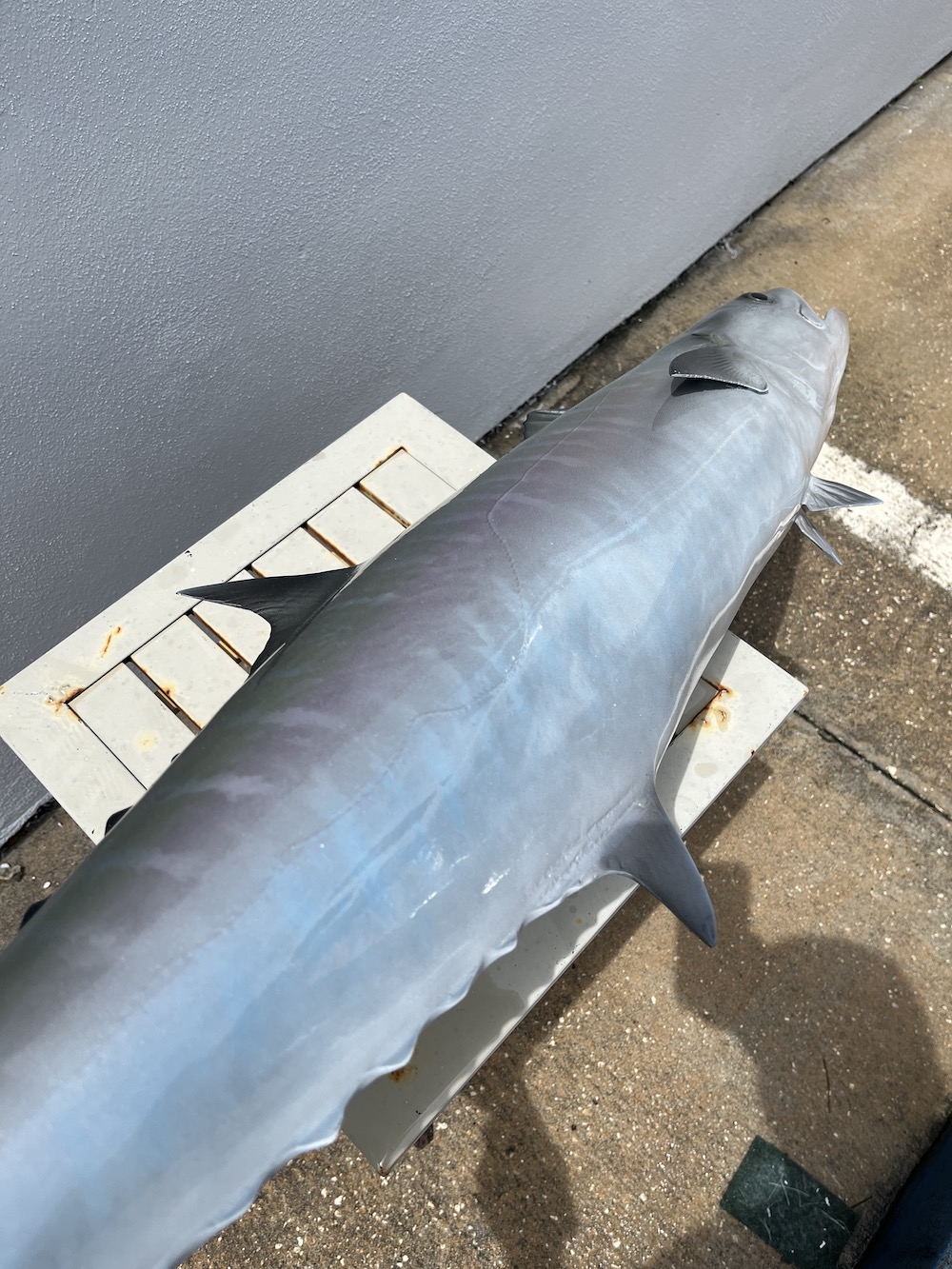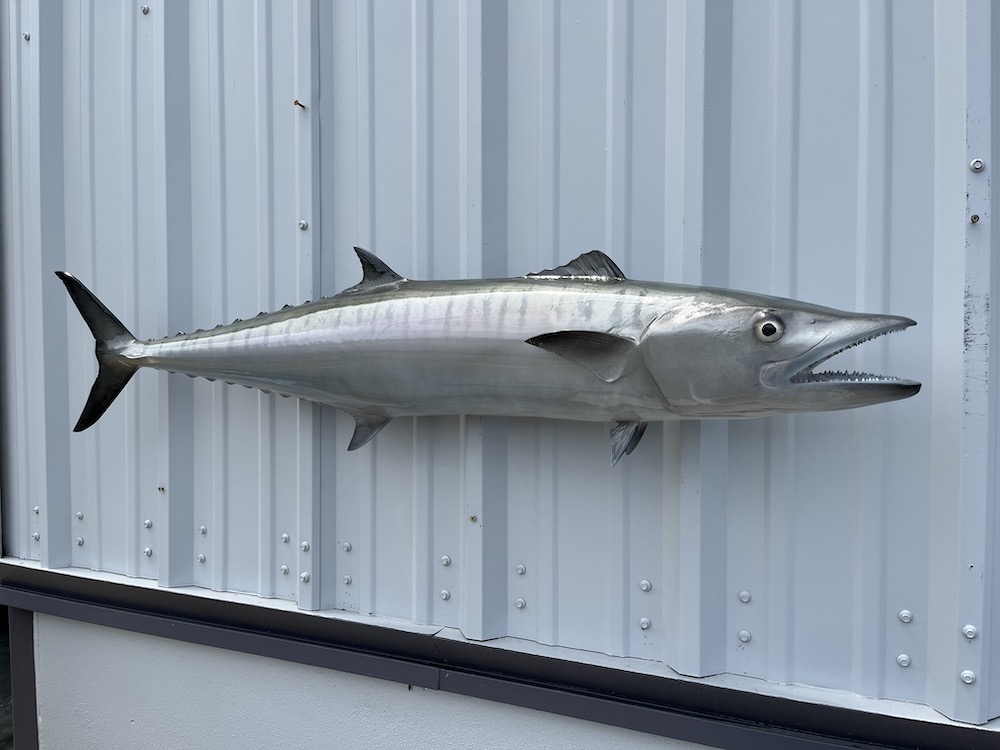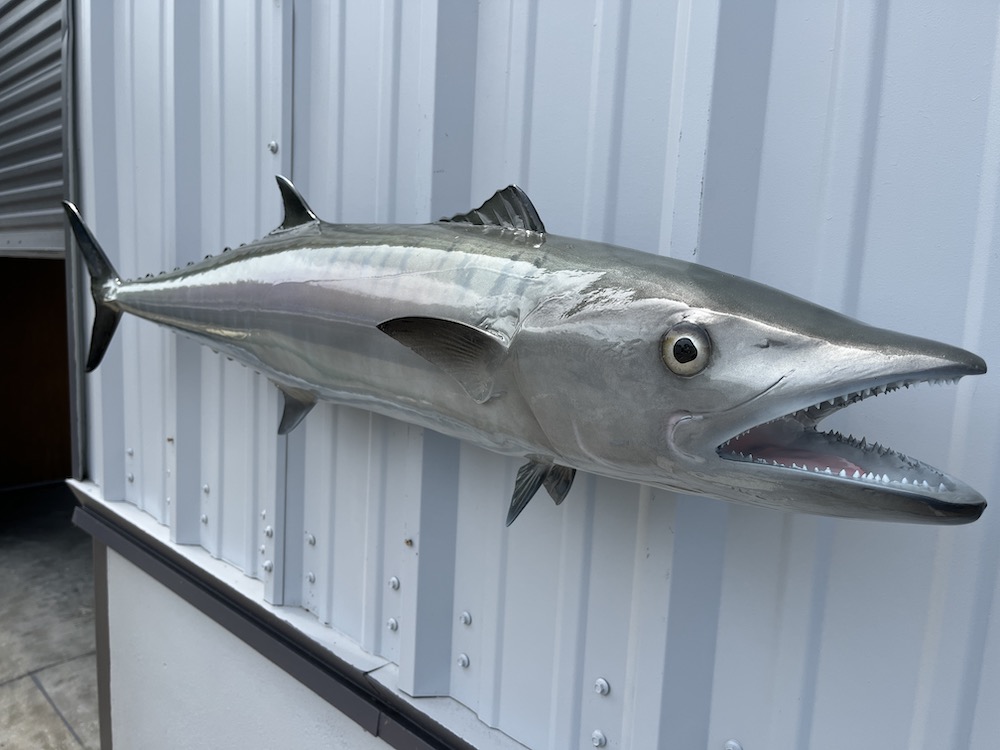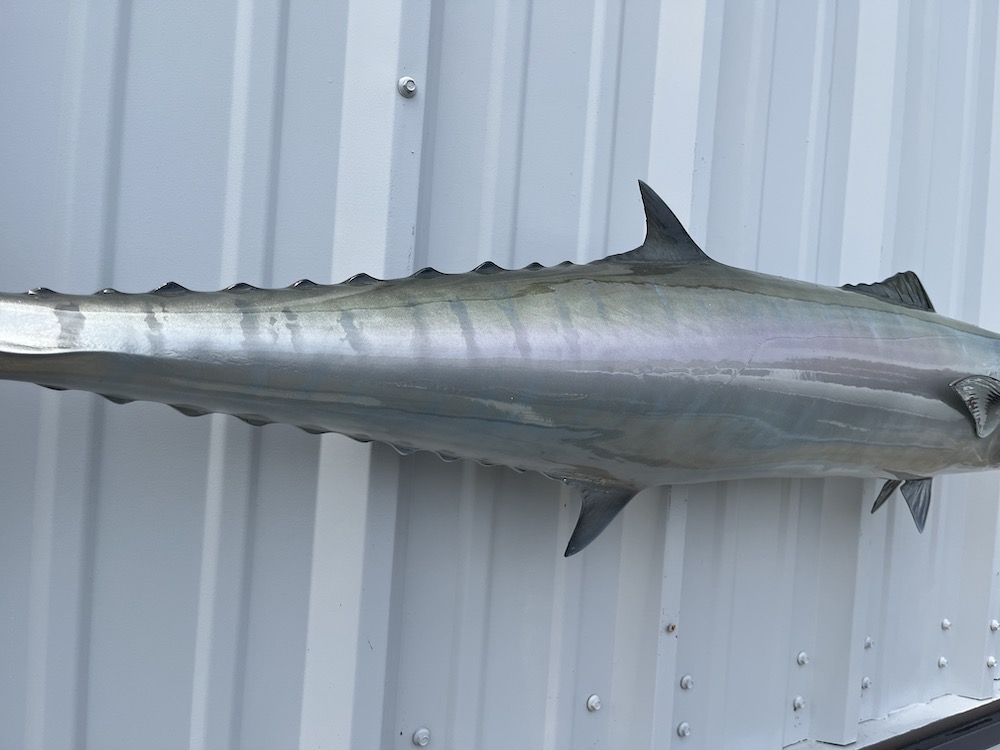 Invoice # 22963 - This 42" Jack Crevalle was finished referencing our customer's catch photo. If you have never caught a Crevalle this size you should give it a try. Happen to hook one on your bait rod and be ready to chase after it or break it off. Here's a little more on Jack Crevalle: The Jack Crevalle fish, scientifically known as Caranx hippos, is a fascinating and formidable species inhabiting coastal waters across the Atlantic, Pacific, and Indian Oceans. Instantly recognizable by their distinct appearance, these fish sport a dark olive to bluish-green body color with striking golden-yellow hues adorning their fins and a prominent black spot near their gills. Growing up to 40 inches in length and weighing as much as 30 pounds, Jack Crevalles are known for their impressive strength and aggressive nature. They often travel in schools, making them a force to be reckoned with in their marine ecosystems. These predators use their powerful jaws to prey on smaller fish and crustaceans, firmly establishing their position as top predators in their habitats. The Jack Crevalle is a sought-after target for sport anglers due to the thrilling challenge it presents during fishing expeditions, and its resilience and striking appearance make encountering one a memorable experience for any avid ocean enthusiast.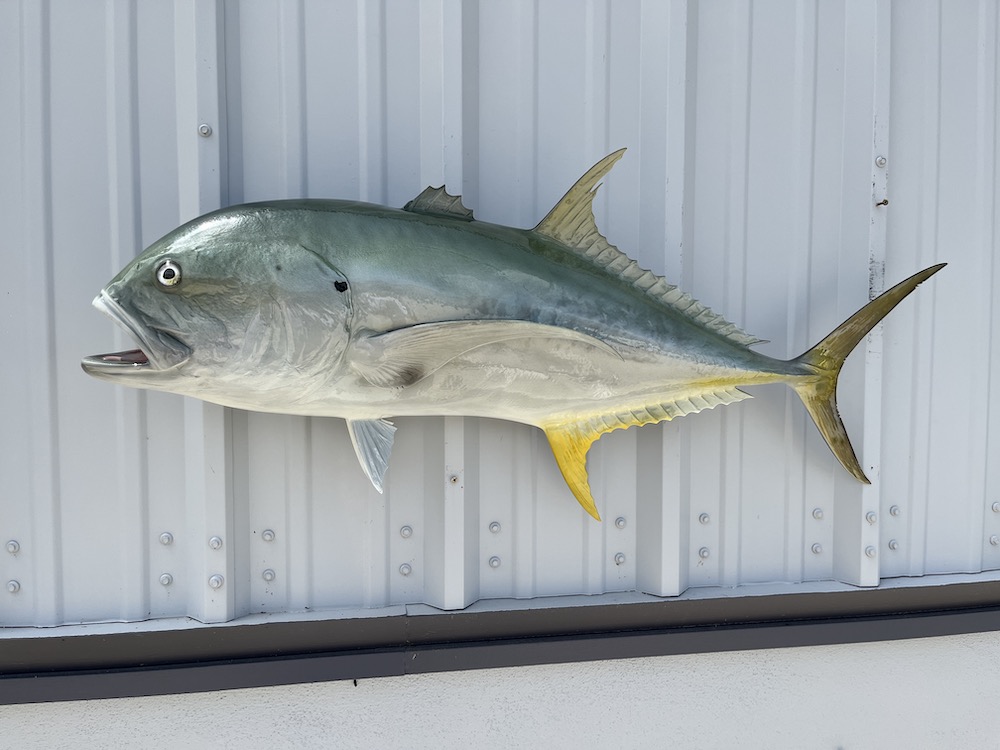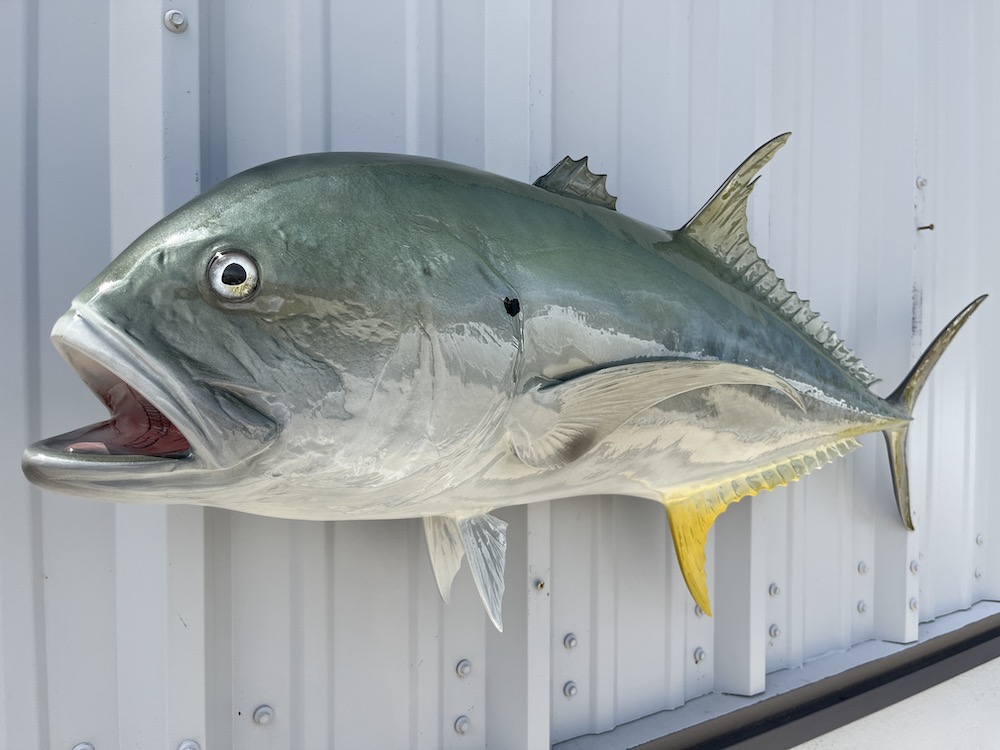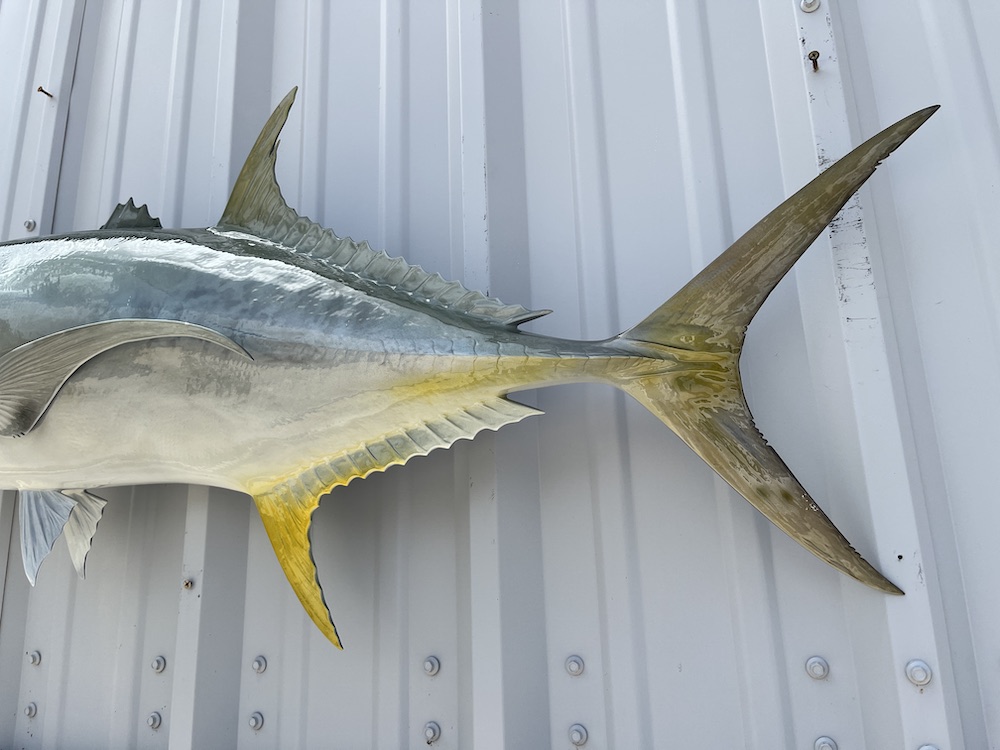 Invoice # 23057 - This 41" Northern Pike was finished referencing our customer's catch photo. This size pike is considered a trophy catch and this particular fish must have been caught it some dark water as the flank coloring is extremely dark. The Northern Pike, known for its elongated body and sharp teeth, is a formidable predator found in freshwater lakes and rivers across North America. With its distinct greenish-brown coloration and mottled pattern, the Northern Pike is a popular target among anglers seeking both the thrill of the fight and the delicious, firm white flesh it offers.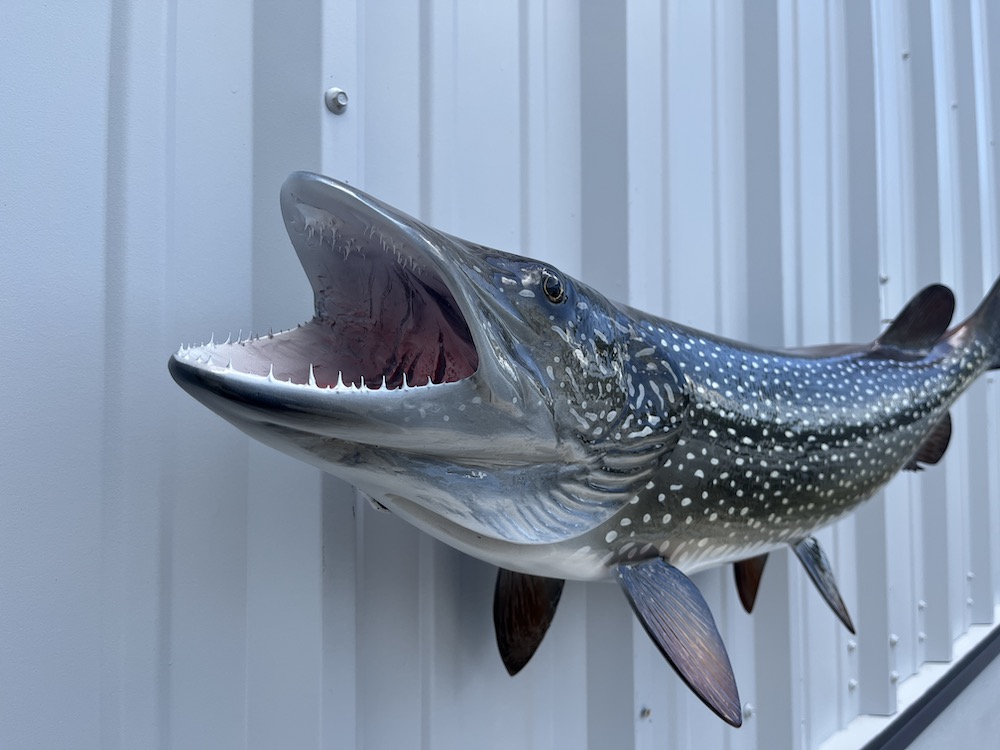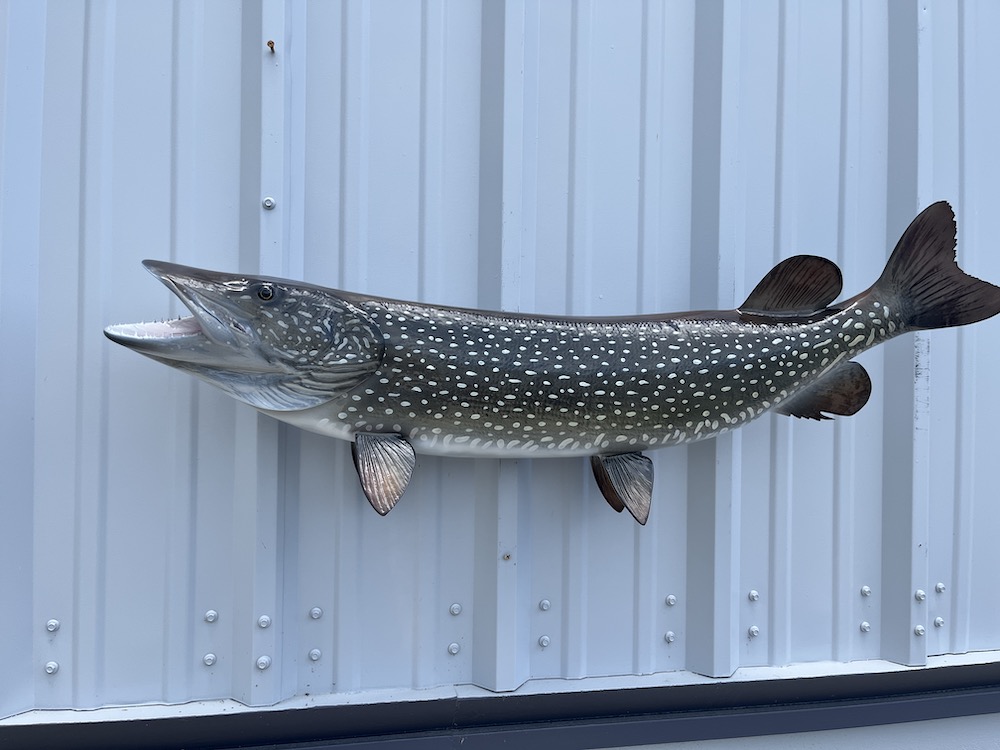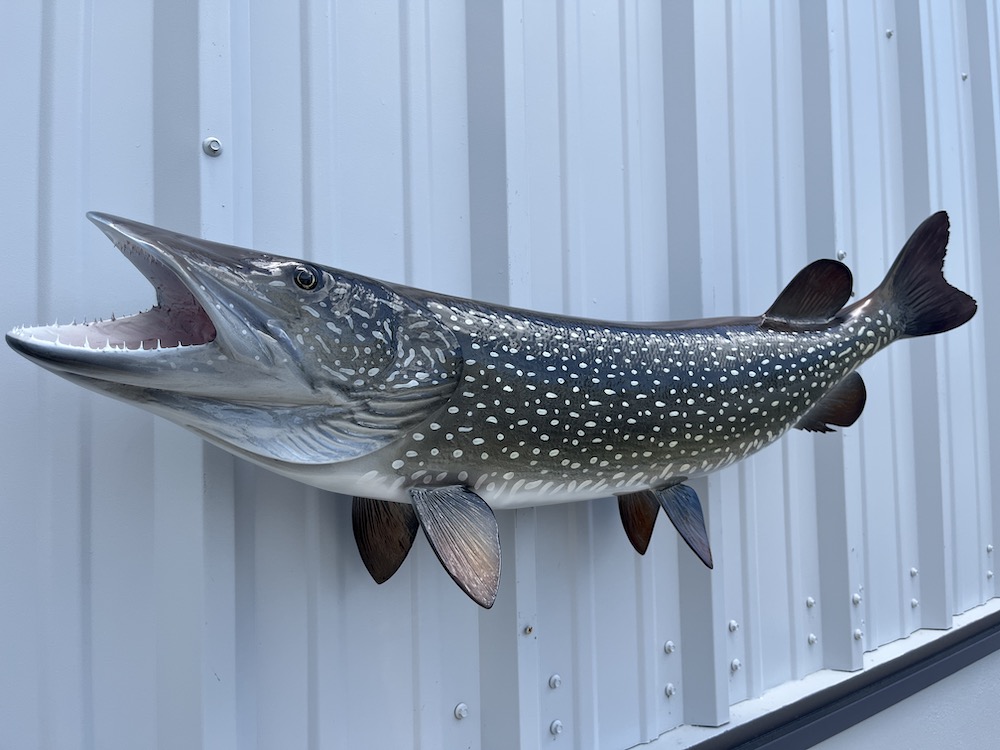 Invoice # 23036 - This 98" Striped Marlin Mount was painted alive and lit up but incorporating some of the markings from a 'Blacked Out" marlin. When a Marlin fish is boated, its vibrant colors, such as brilliant blues and greens, often fade to a dark, almost black hue due to the stress and trauma experienced during the fight. The fish's dramatic color change is a natural response, caused by the release of pigment cells called chromatophores triggered by the intense physical exertion and capture process. This transformation, while visually striking, is temporary, and the Marlin's colors will gradually return as it recovers from the ordeal.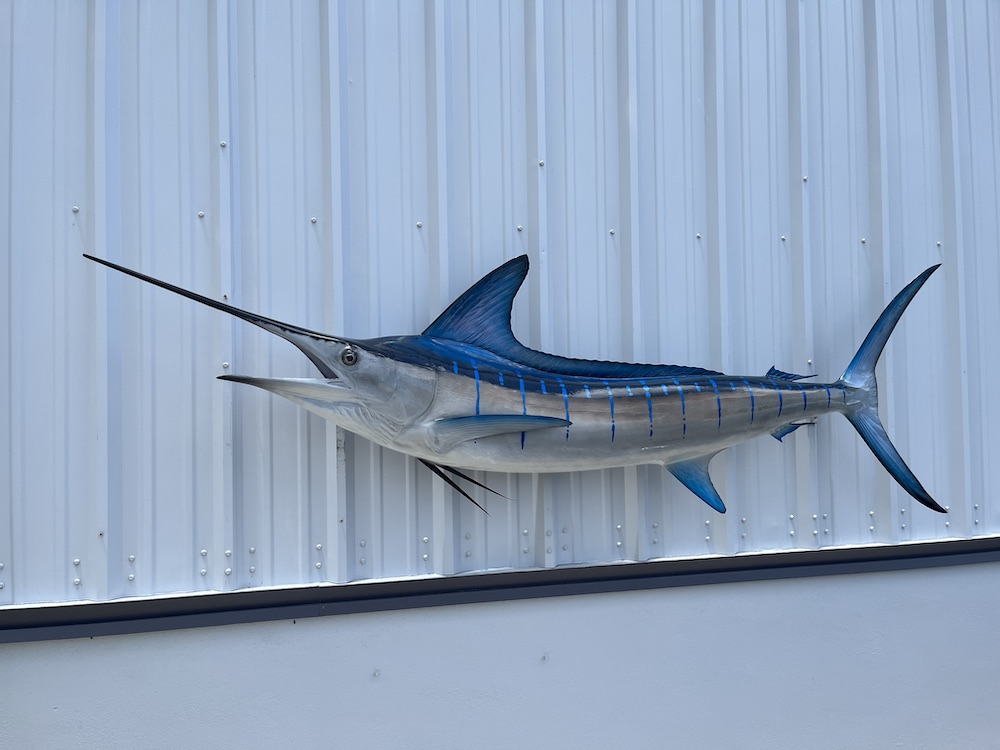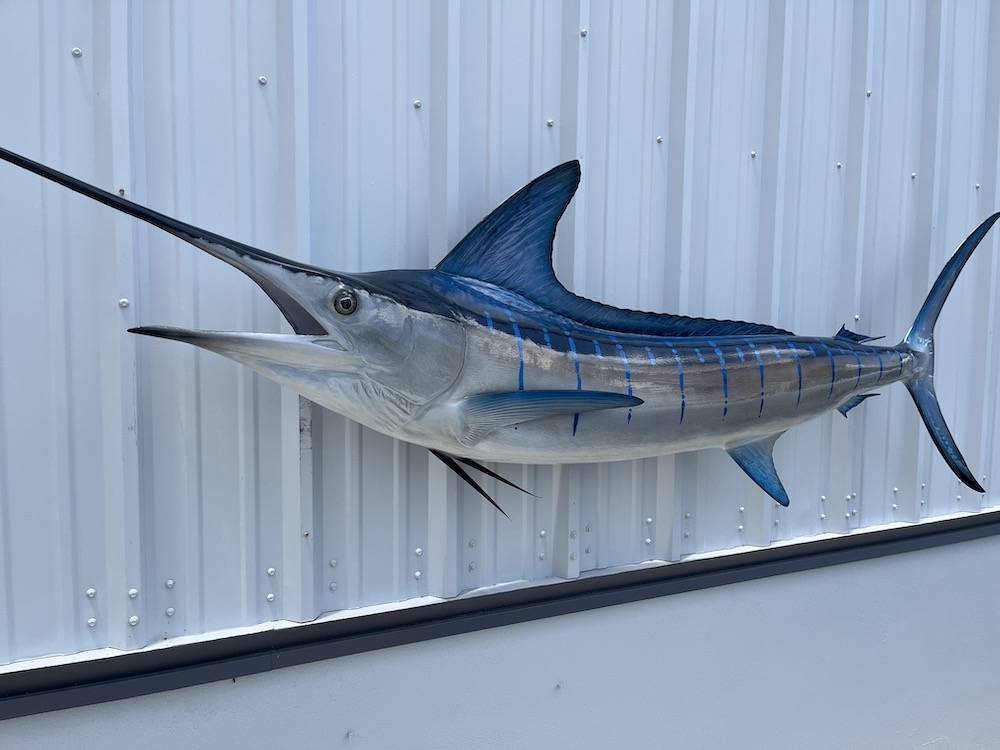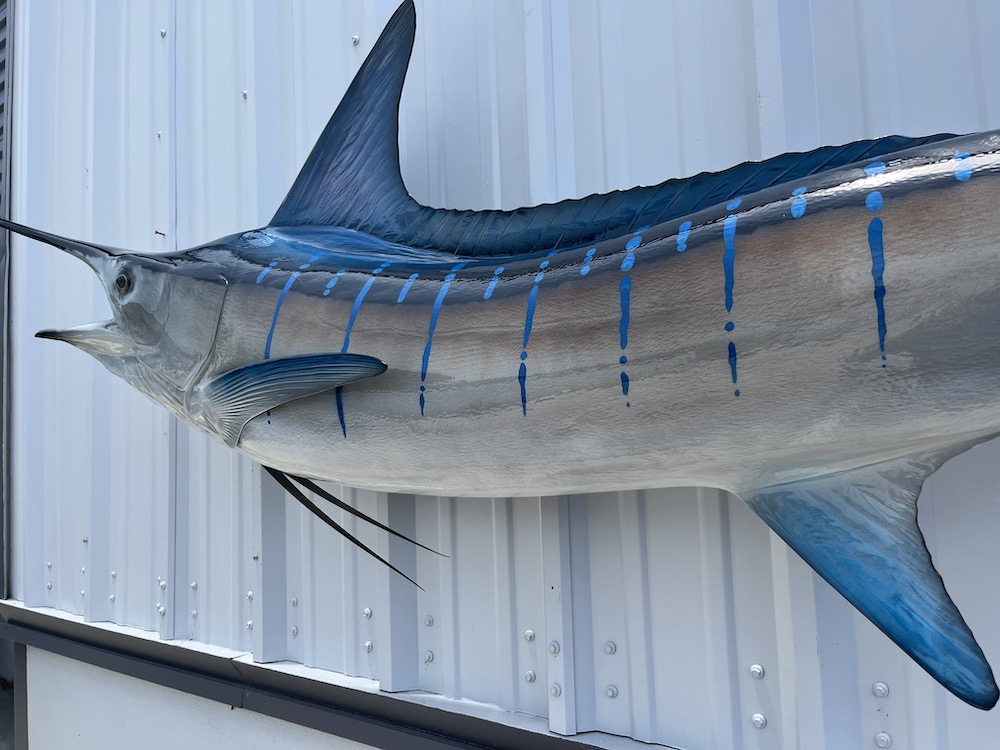 Invoice # 22957 - This 62" Bluefin Tuna replica was not a custom painted full mount fish replica but often time we will throw larger, expensive shipping cost projects into our proofing section to make sure the customer is pleased prior to shipping.This bluefin tuna mount has the traditional paint schedule of darker bronze flanks with pearl white vertical bands placed over the flank and marbleized belly area. The Bluefin Tuna, renowned for its incredible size and strength, is a highly coveted species sought after by anglers and sushi aficionados worldwide. With its sleek, torpedo-shaped body and deep blue coloration, this magnificent fish can reach staggering weights and is revered for its rich, buttery flesh, making it a prized delicacy in fine dining establishments.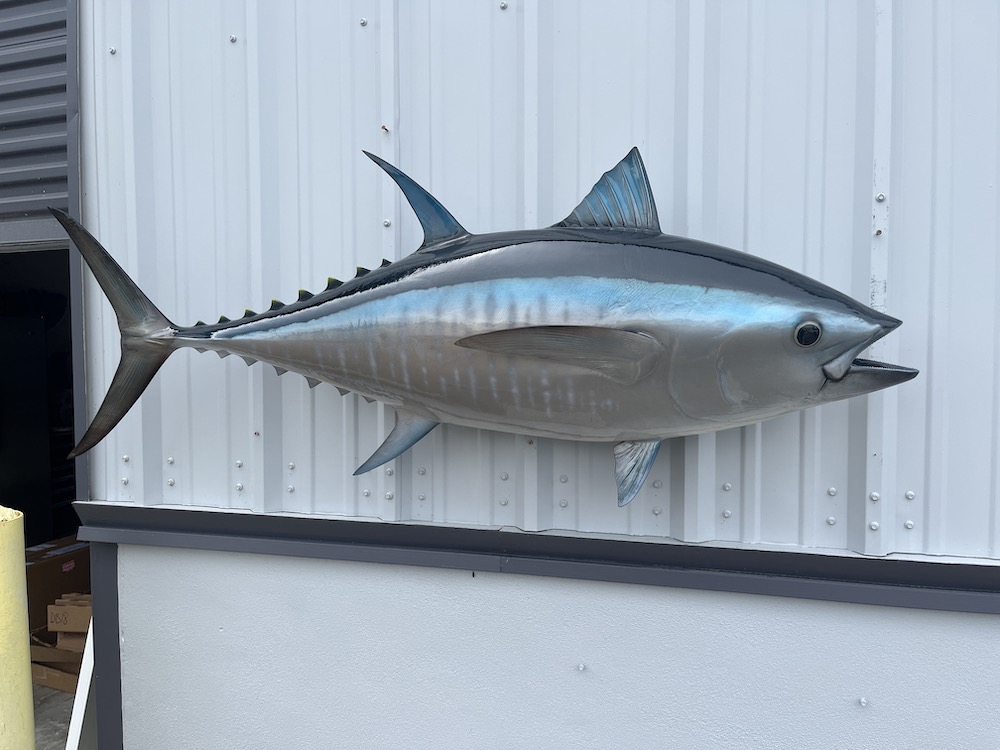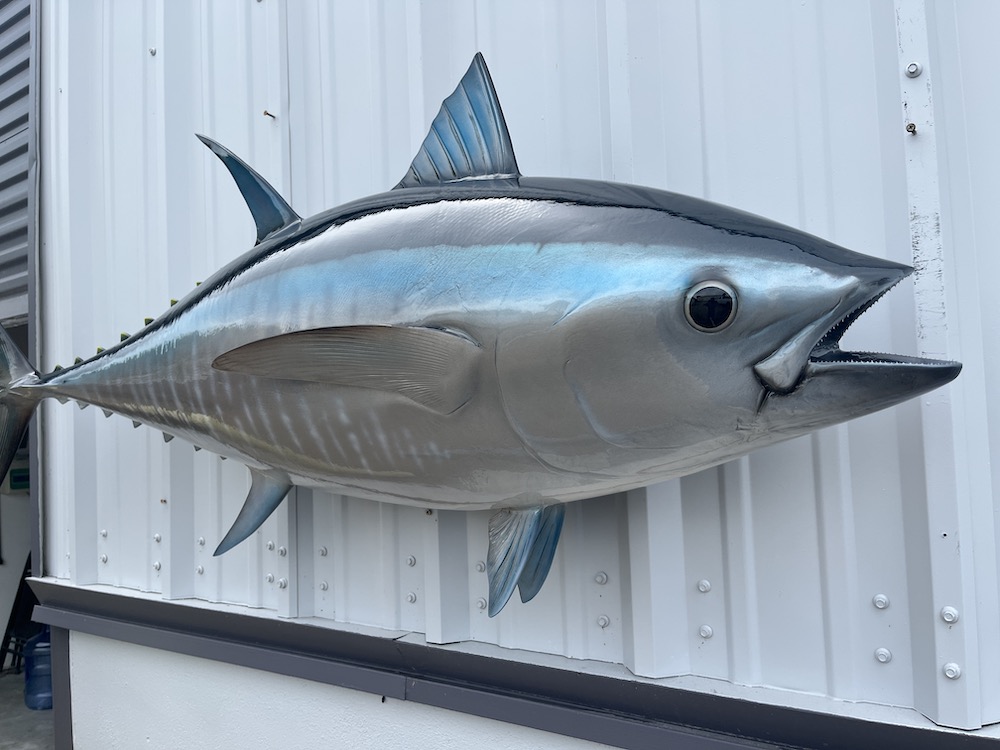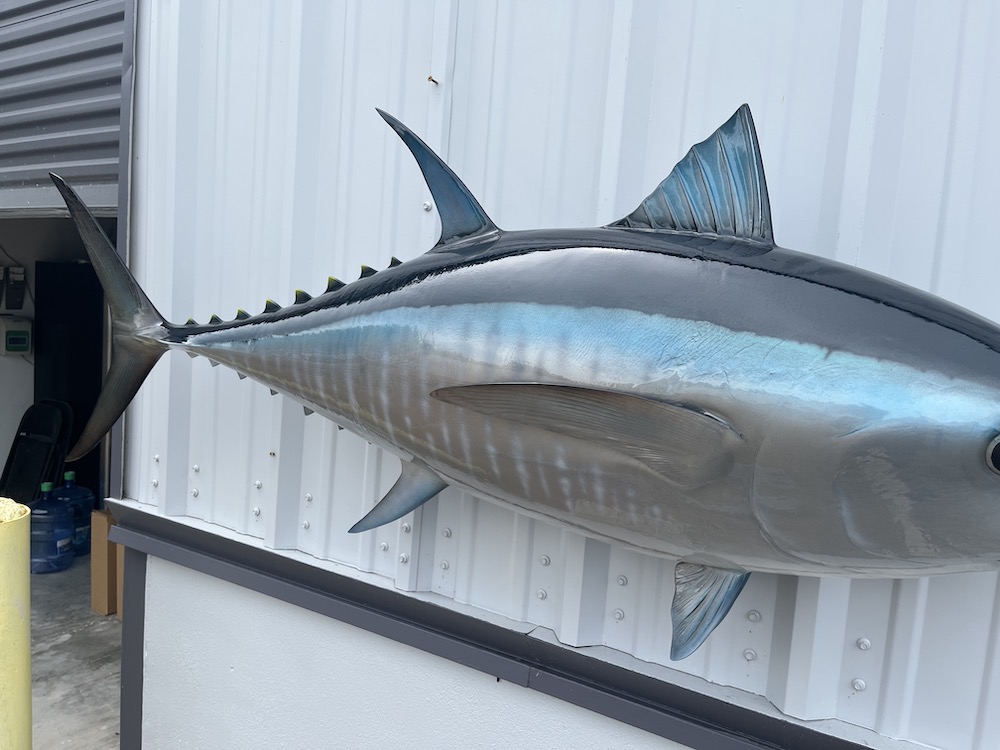 Invoice # 22927 - This 67 inch wahoo mount was not custom painted from picture reference but instead customer requested a bright paint scheme. We painted this hoo to represent a vivid, lit up wahoo as if it was cruising a quick rising canyon wall in search of its favorite baitfish. The Wahoo fish, also known by its Hawaiian name Ono, is a prized catch along the East Coast and Gulf of Mexico, valued not only for its impressive speed and agility but also for its delectable table fare. With its lean, flavorful white meat, the Ono is often hailed as a culinary delight, making it a sought-after species among seafood enthusiasts and discerning palates alike.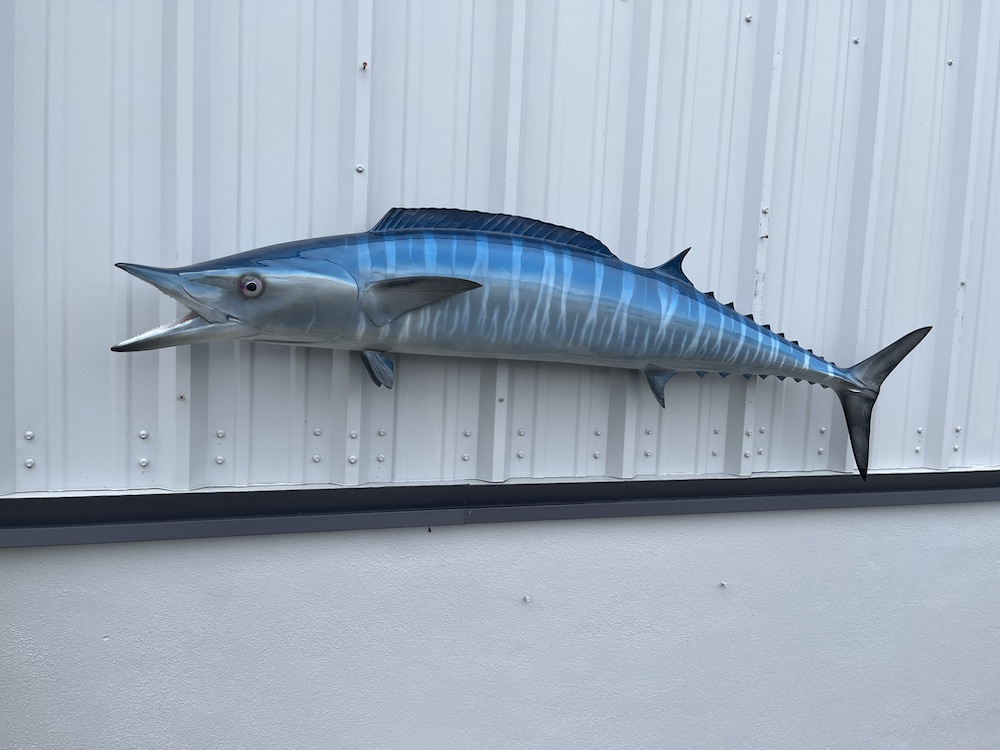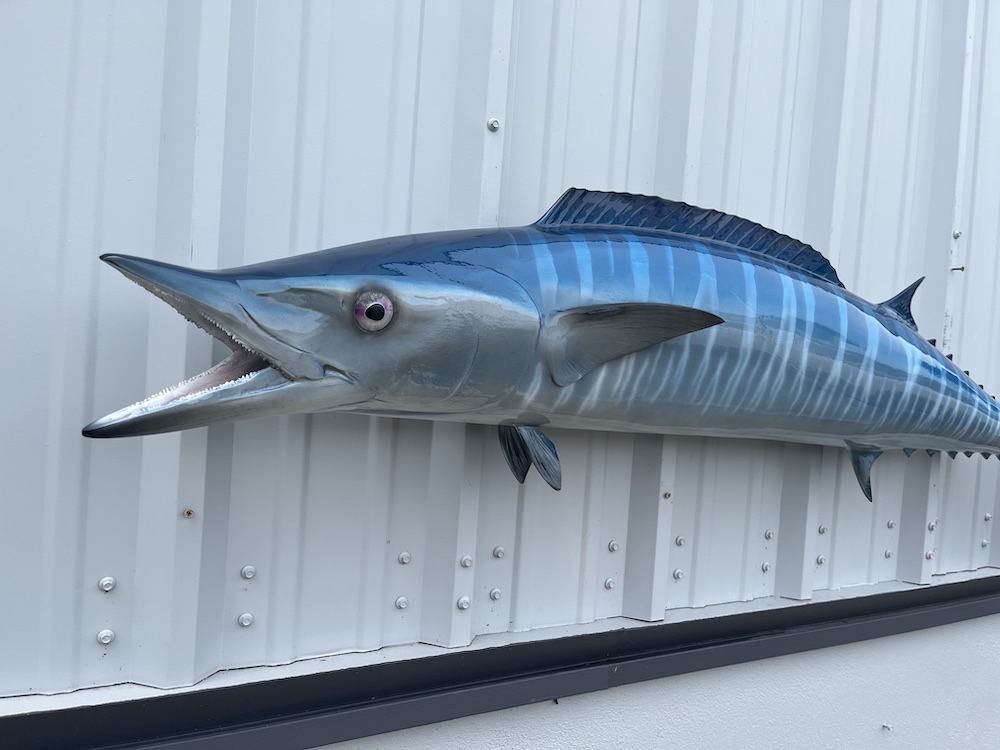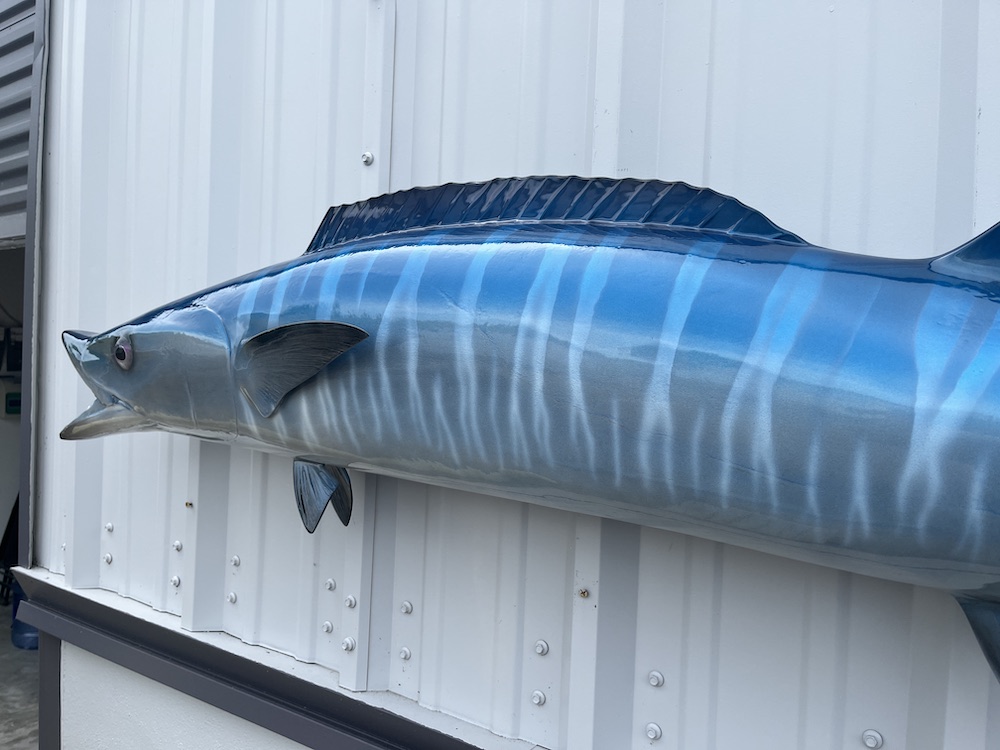 Invoice # 23058 - This 23" peacock bass was produced for one of our fish mount customers based off their catch photo submitting at time of order. This peacock bass didnt have the usual dark bands that go from the top of the fish to the belly but instead had subtle markings and was very dark in general color. Here is a little information about Florida Peacock Bass: The Peacock Bass fish, sought after in the waters of Florida, showcases vibrant, iridescent colors and distinct eye-catching patterns on its sleek body. Known for its aggressive nature and powerful strikes, this exotic species brings excitement to anglers while offering a thrilling fishing experience in the Sunshine State.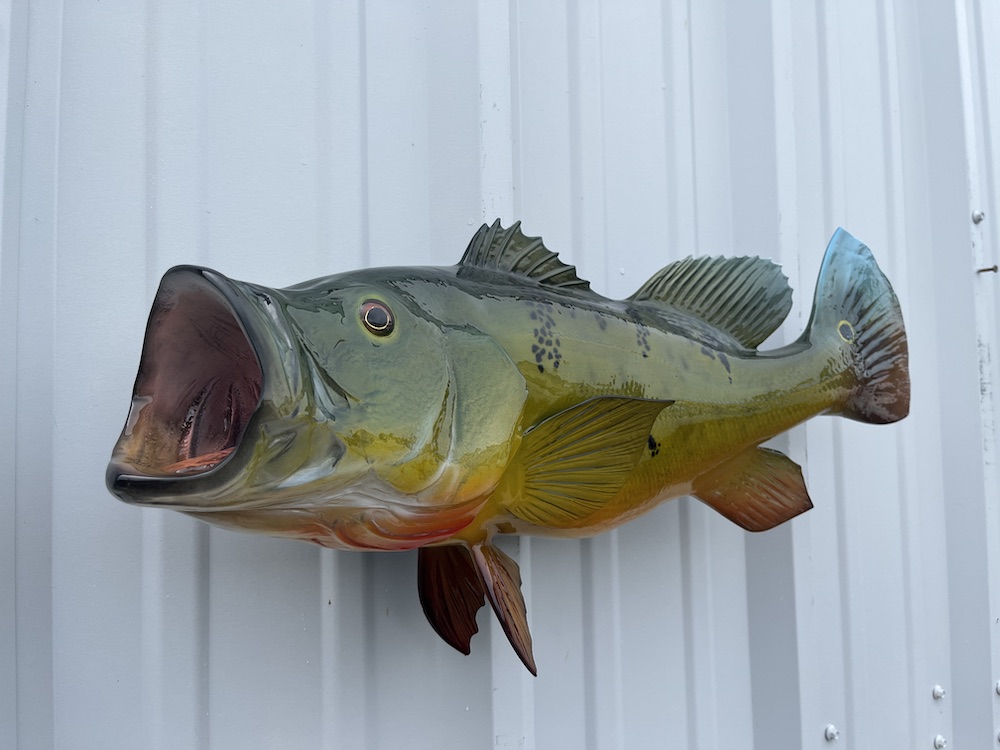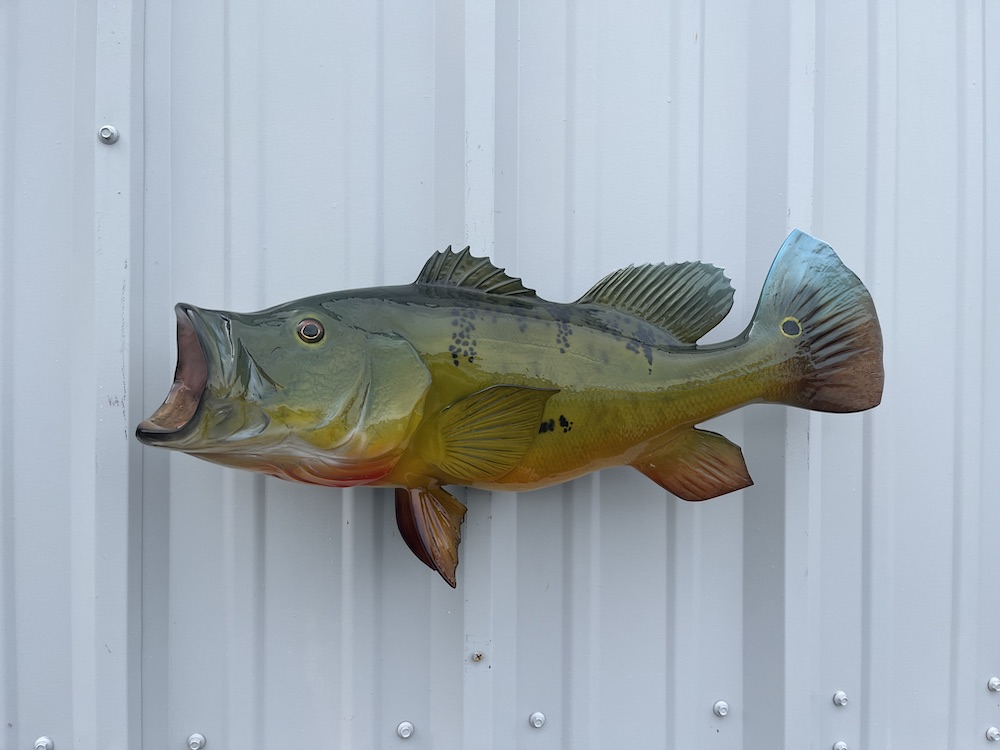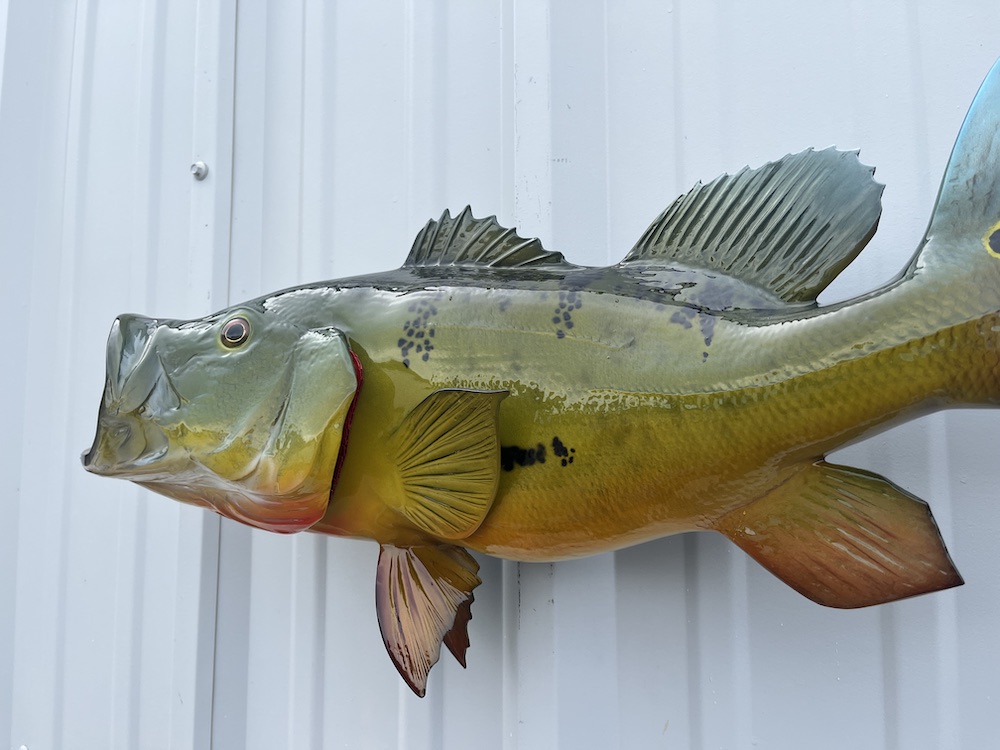 Invoice # 22925 - This 25" sheepshead fish replica was produced based off our customers catch photo. This sheepshead was painted using a knock down technique where the artist put multiple layers of paint down and then uses an abrasive substrate to remove some of the top layers off the scale edges so the paint within the scale detail is shown. The Sheepshead fish, commonly found along the East Coast of the USA, is a striking species recognized for its prominent, human-like teeth and vertical black stripes along its silver-gray body. This coastal favorite is highly regarded for its delicious, flaky white meat, making it a prized catch among anglers and seafood enthusiasts alike.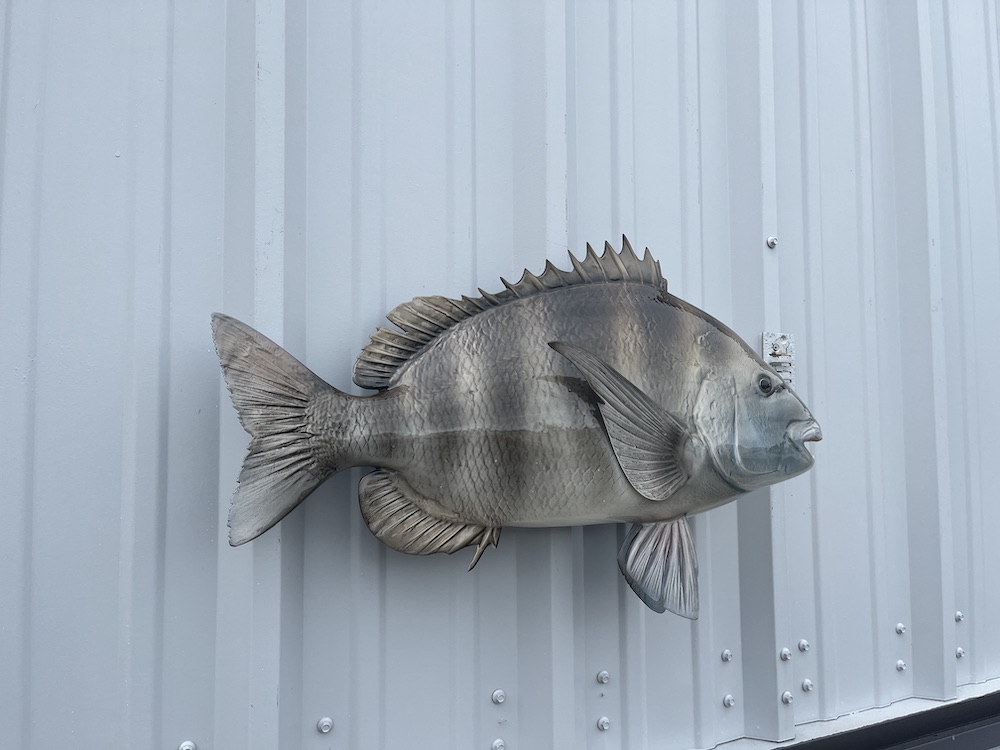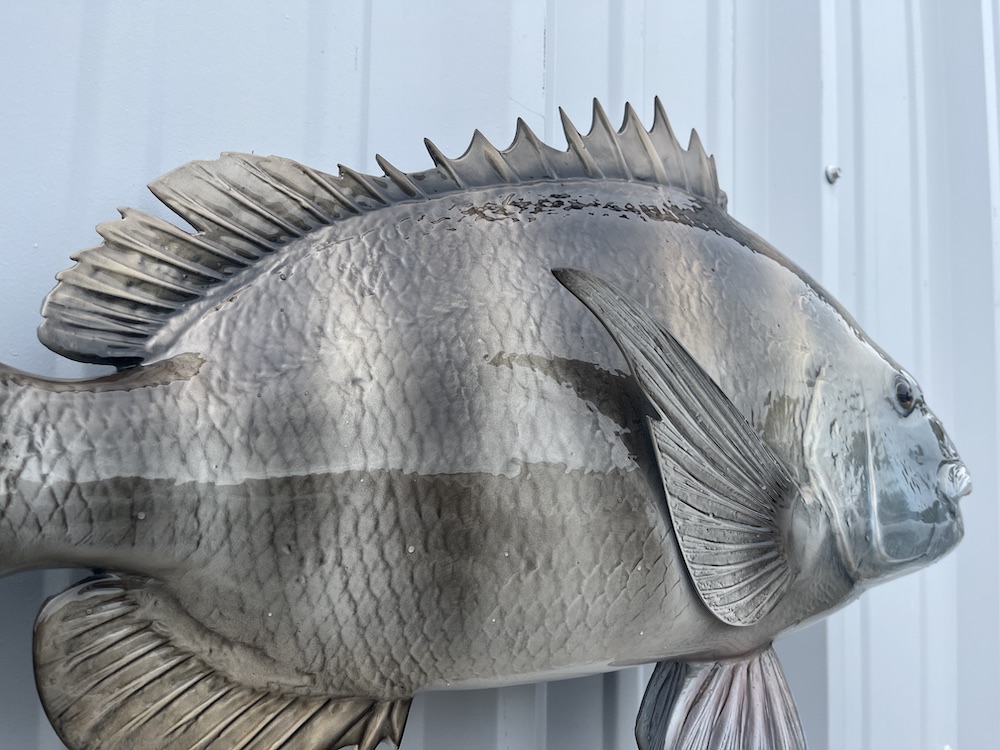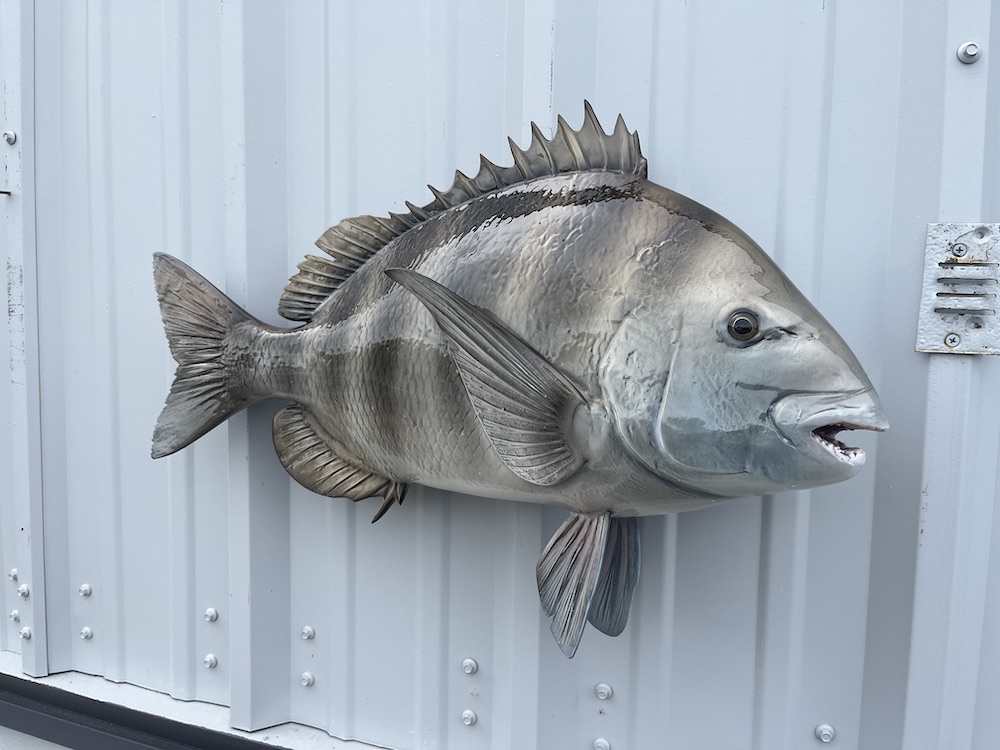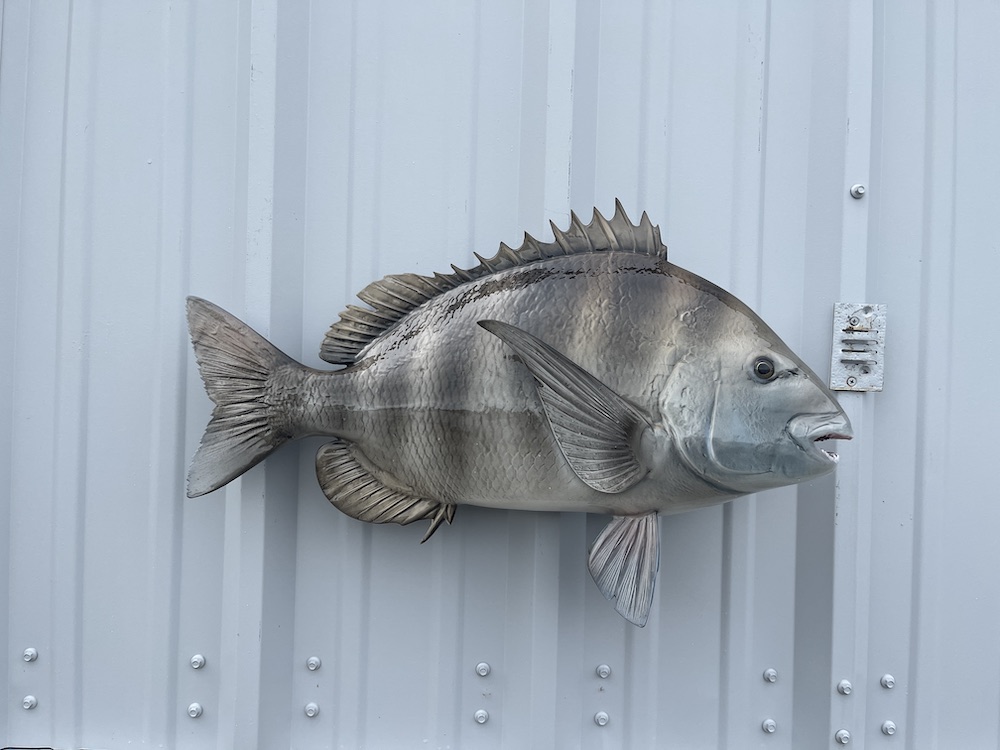 Invoice # 22981 - 47" Muskie Full Mount Fish Replica - Customer Provided Proof Pictures - Both inside and outside pictures taken to showcase the coloring used but also to show the darker color scheme that will be seen when displayed indoors.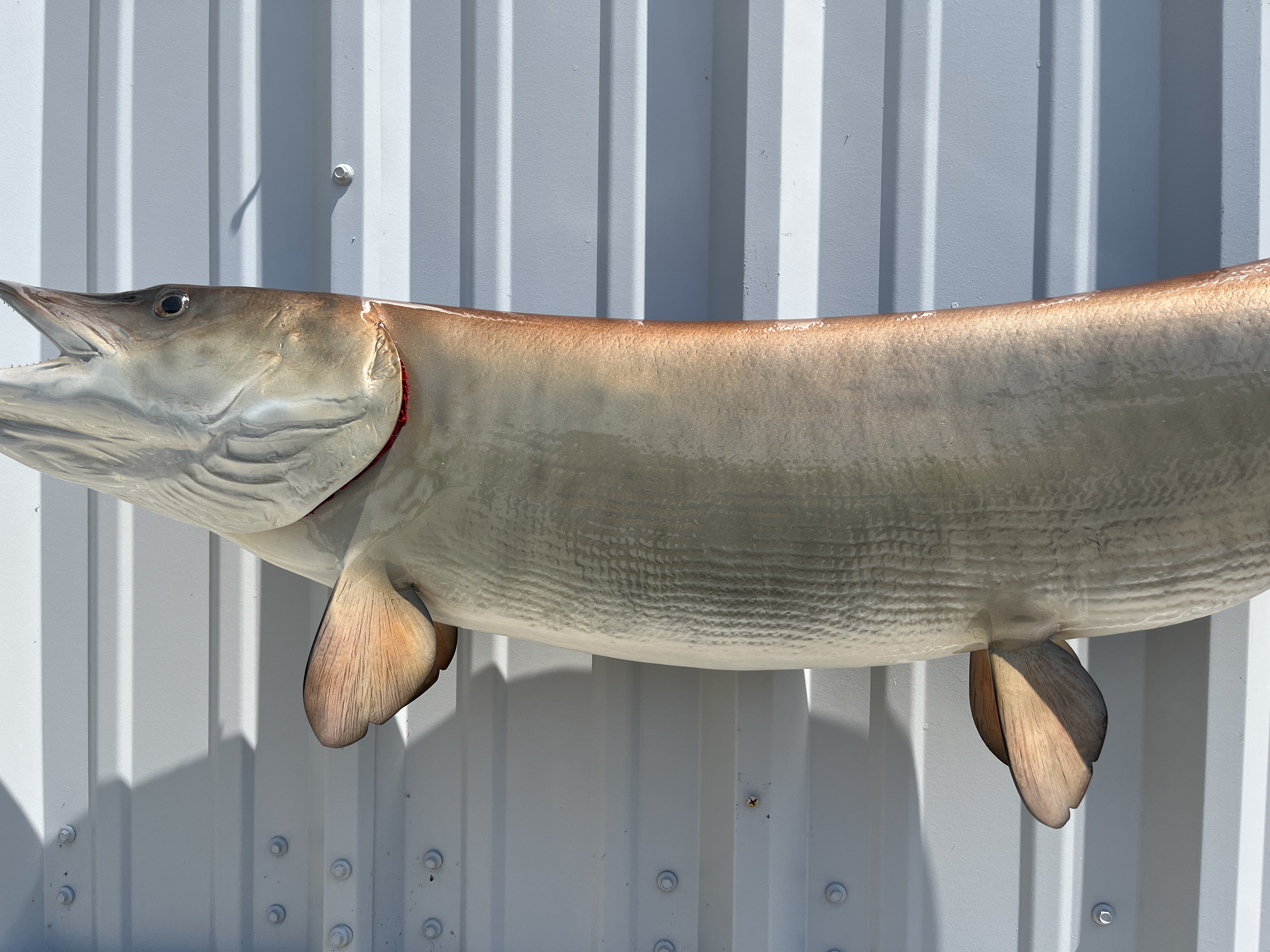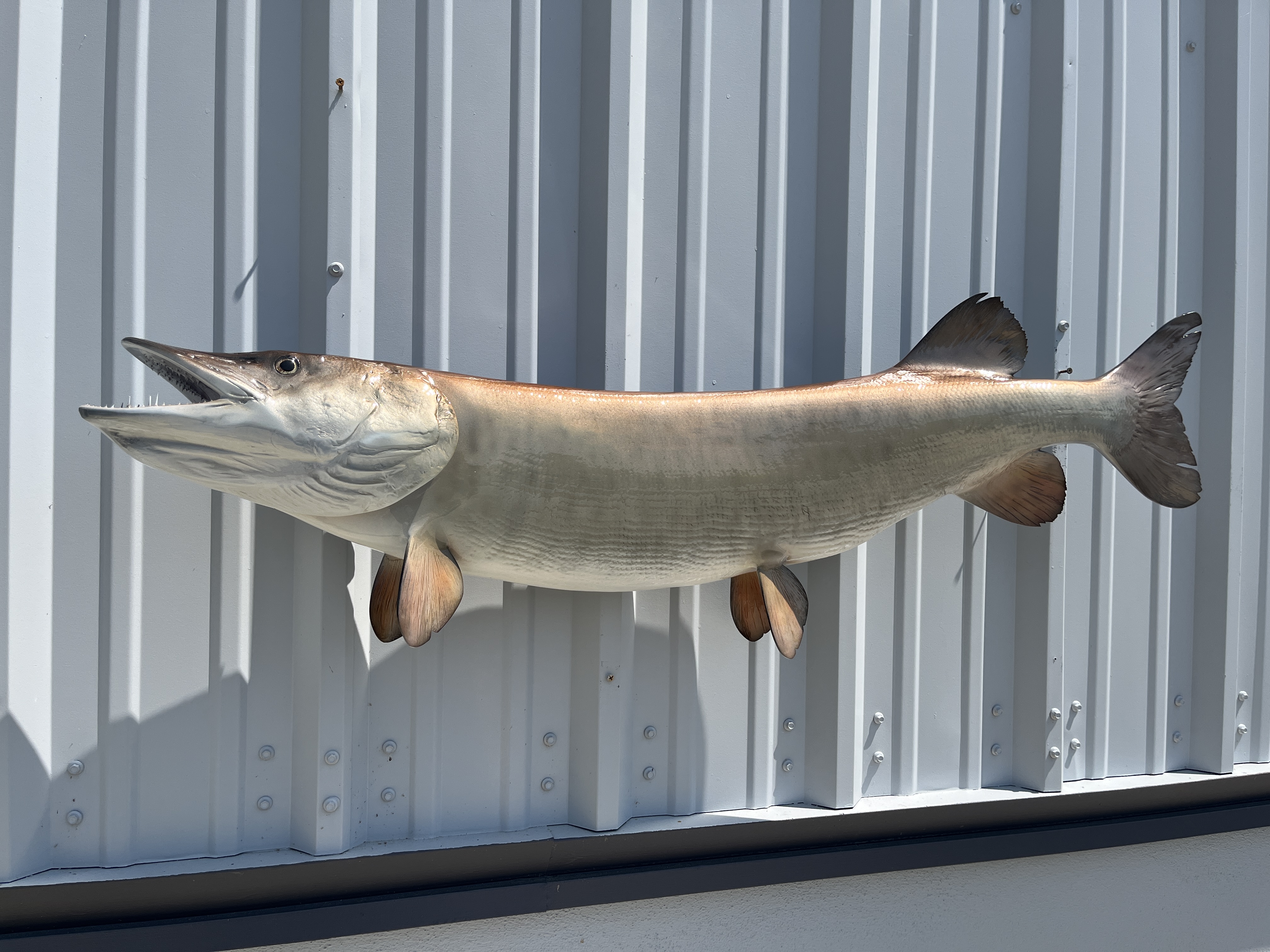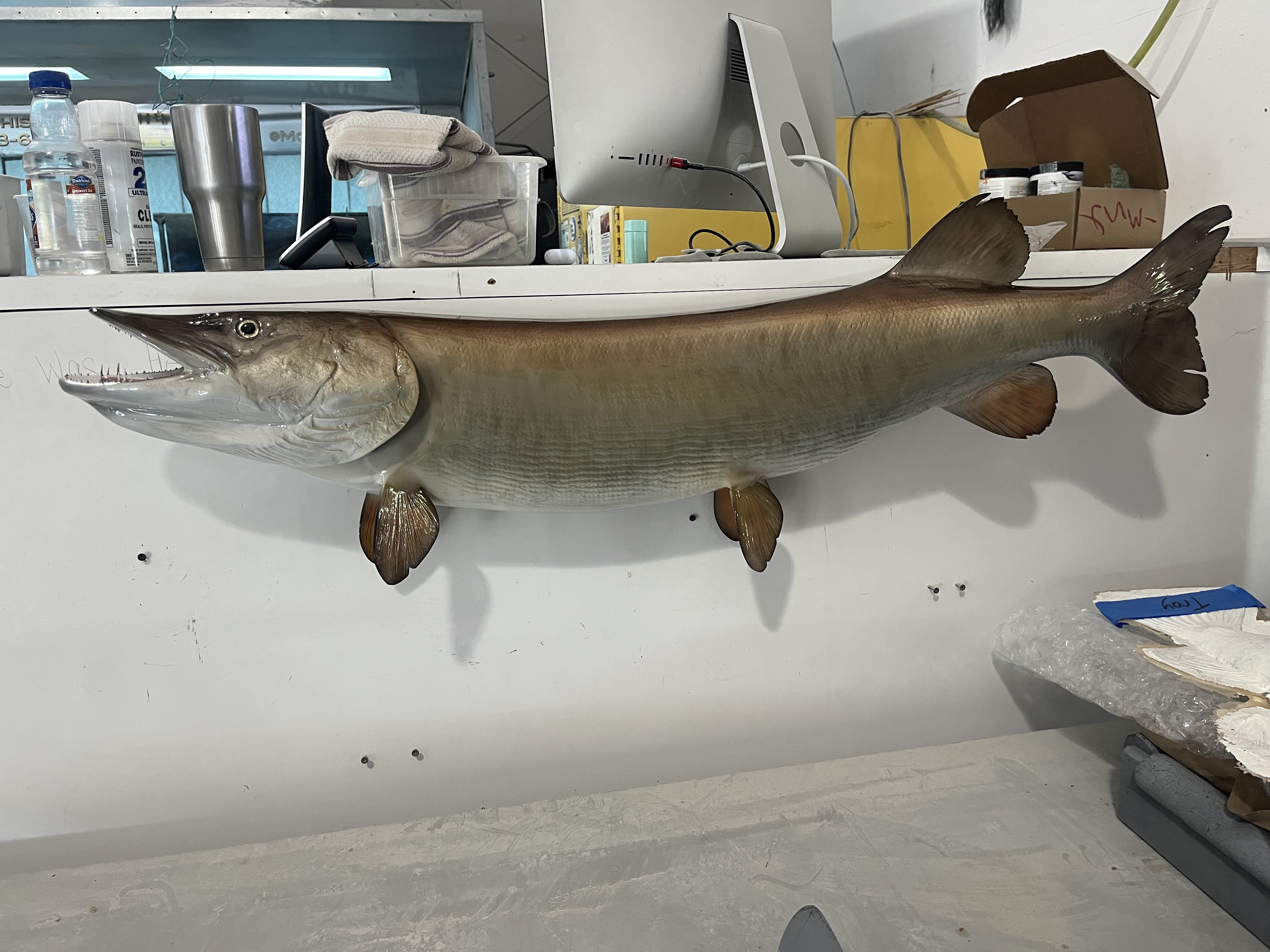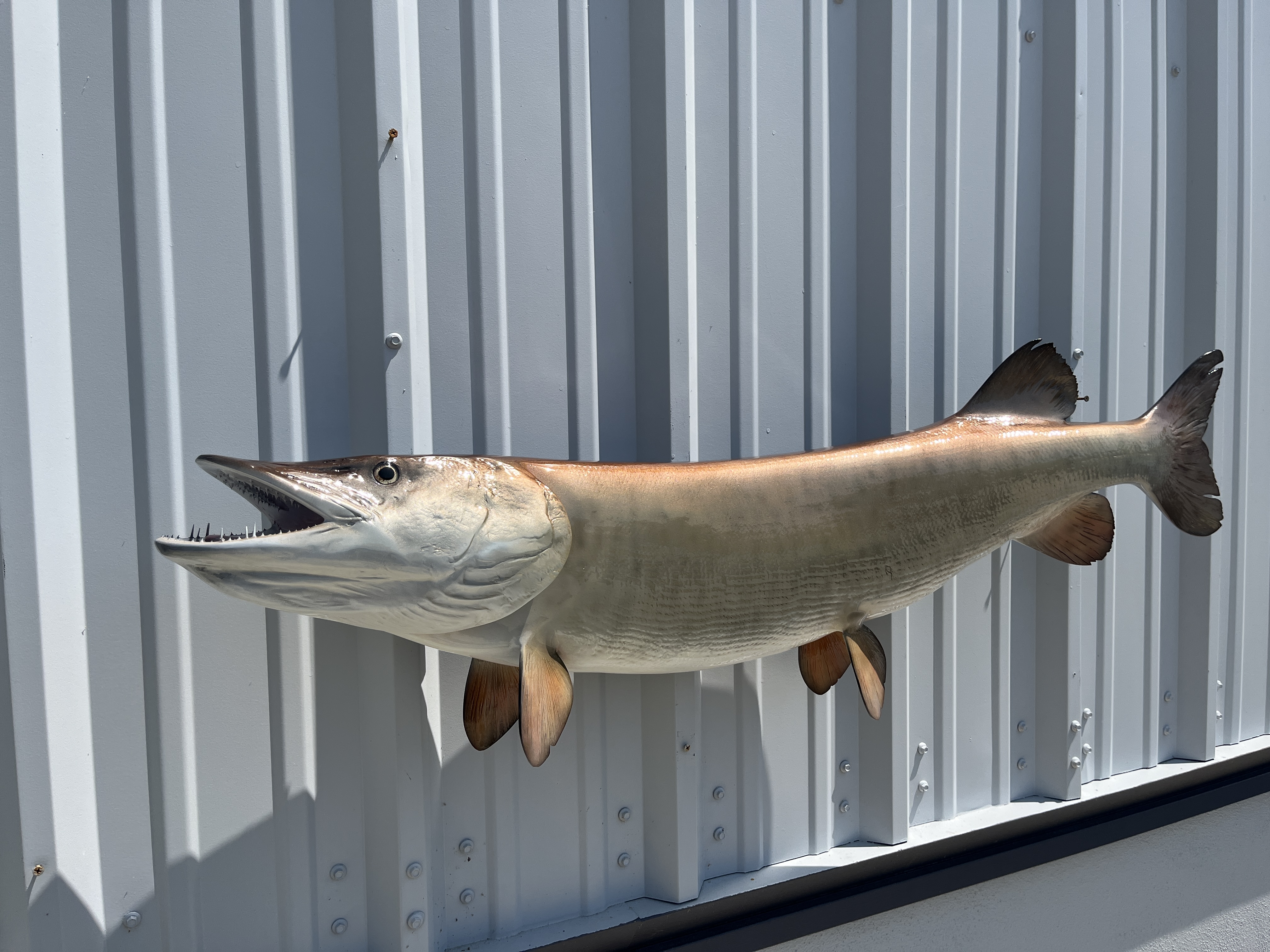 Invoice # 22991 - 43 Redfish Full Mount Fish Replica - Customer Provided Proof Pictures - Both inside and outside pictures taken to showcase the coloring used but also to show the darker color scheme that will be seen when displayed indoors.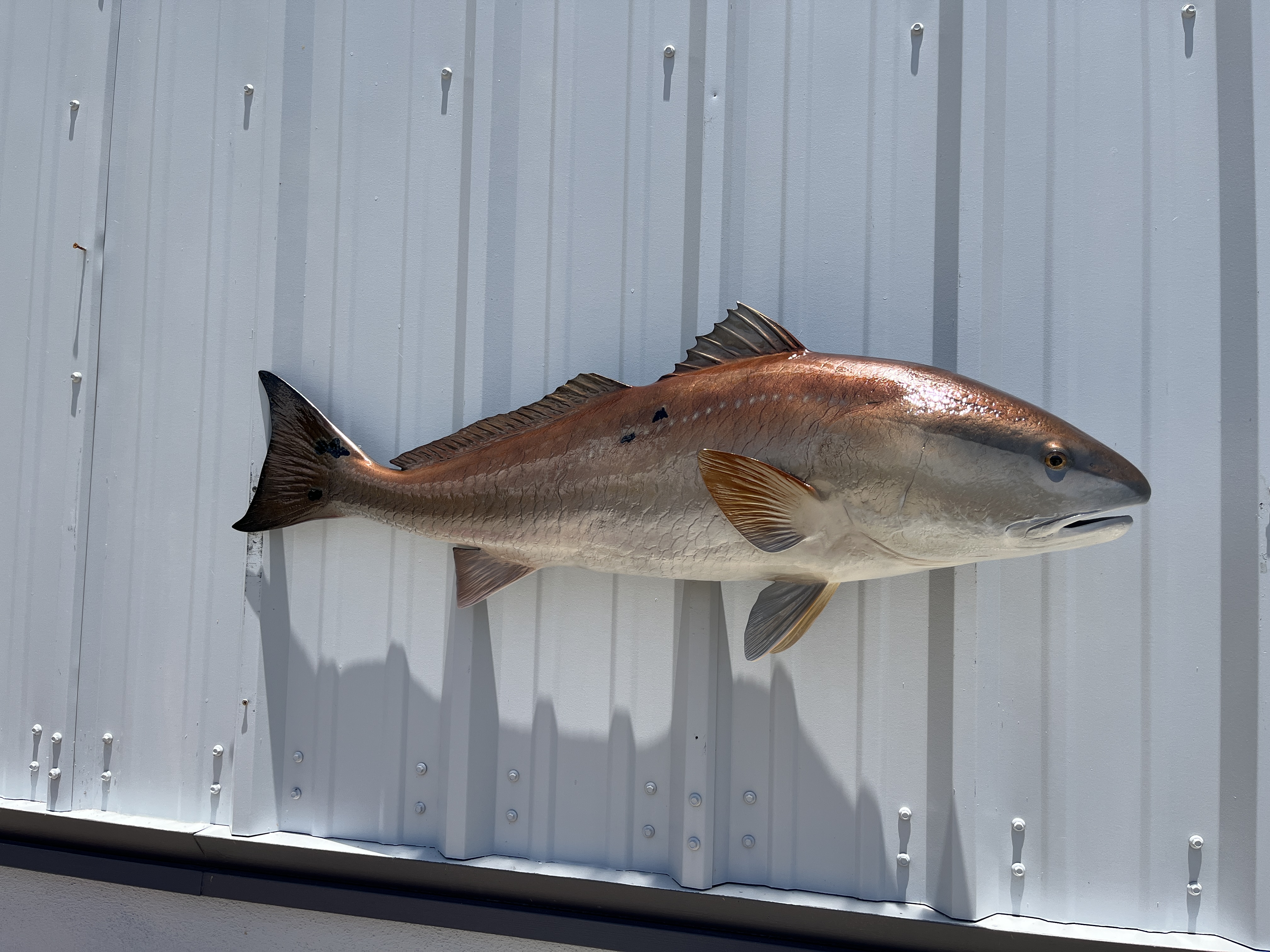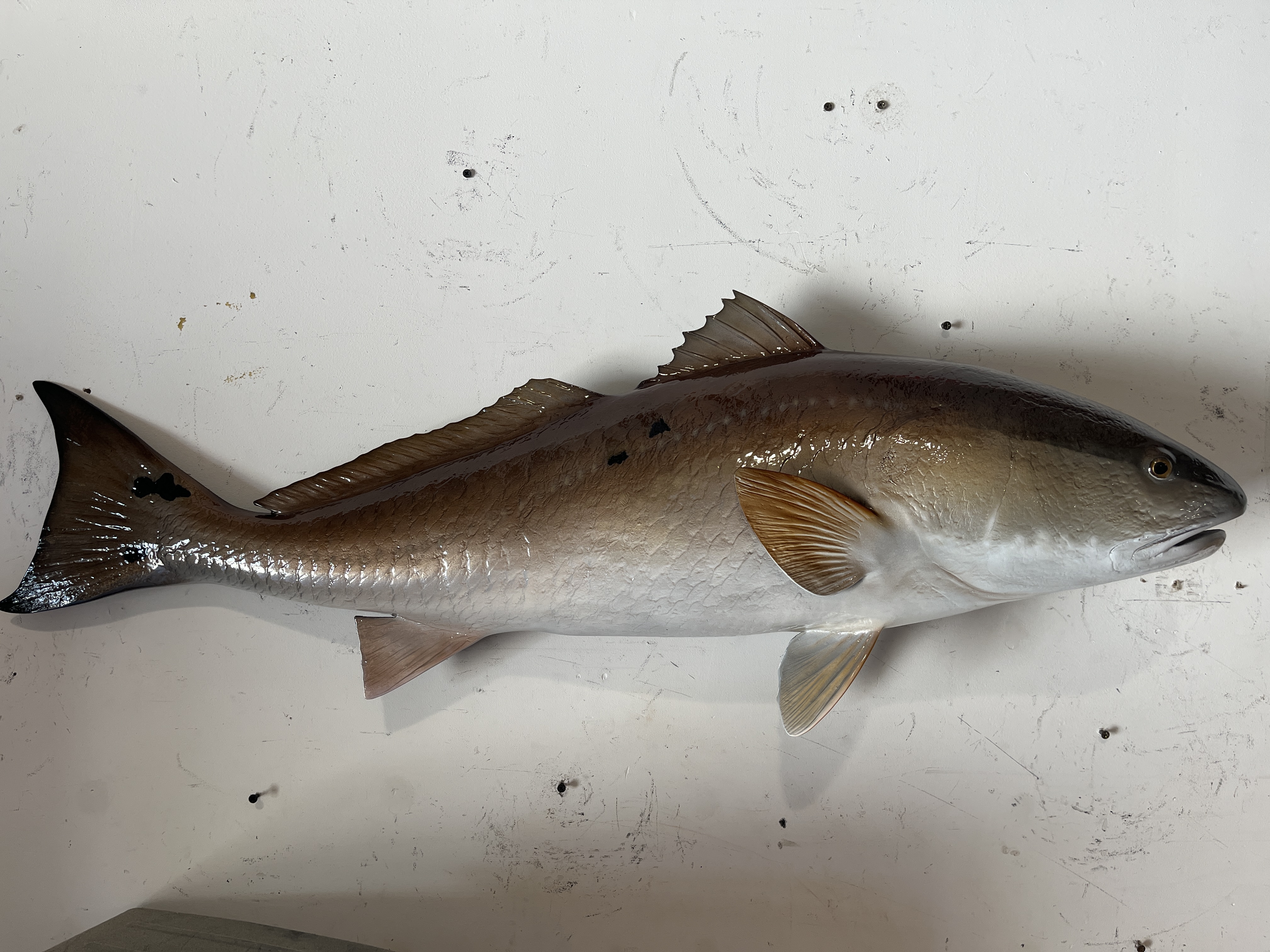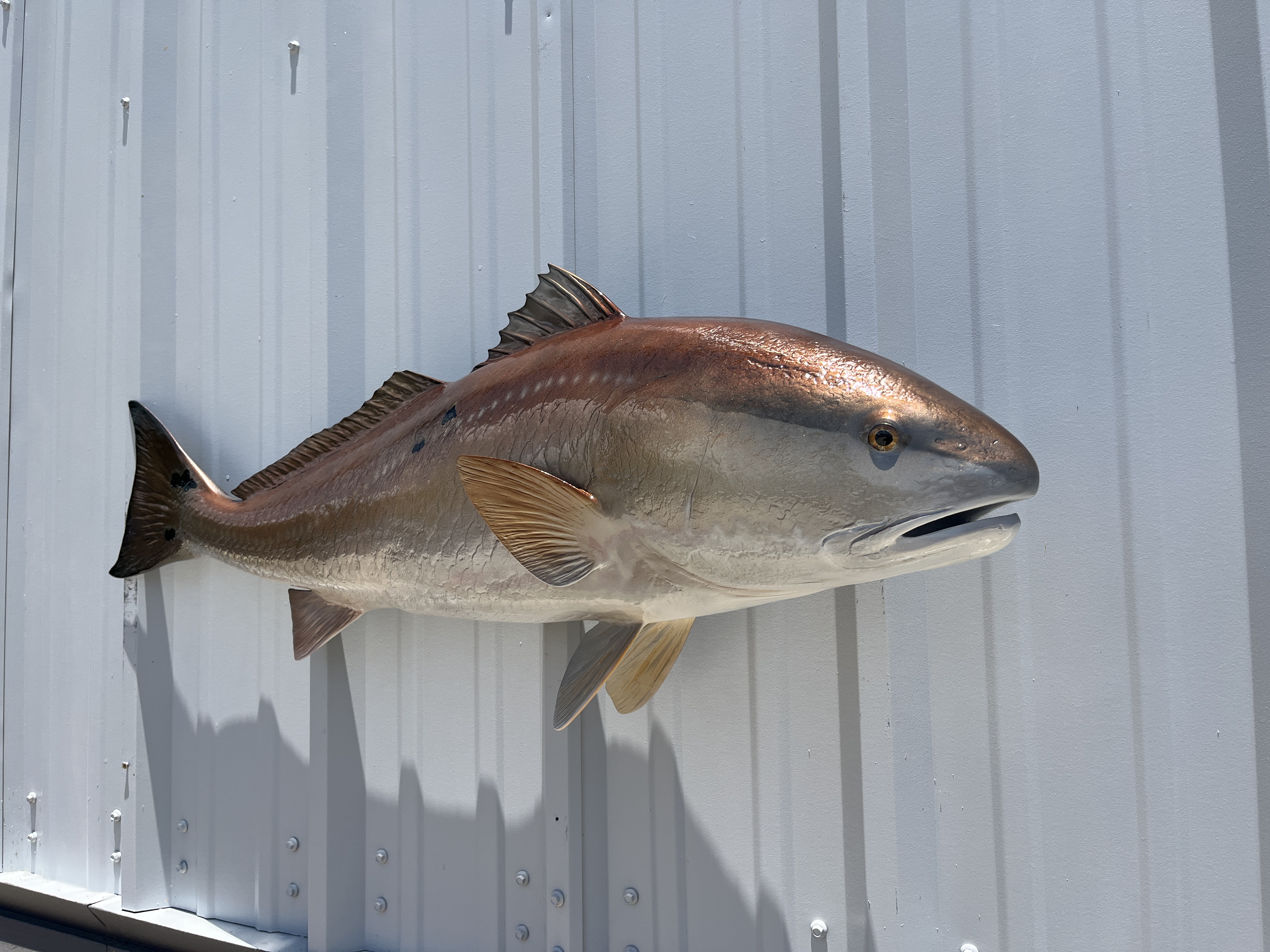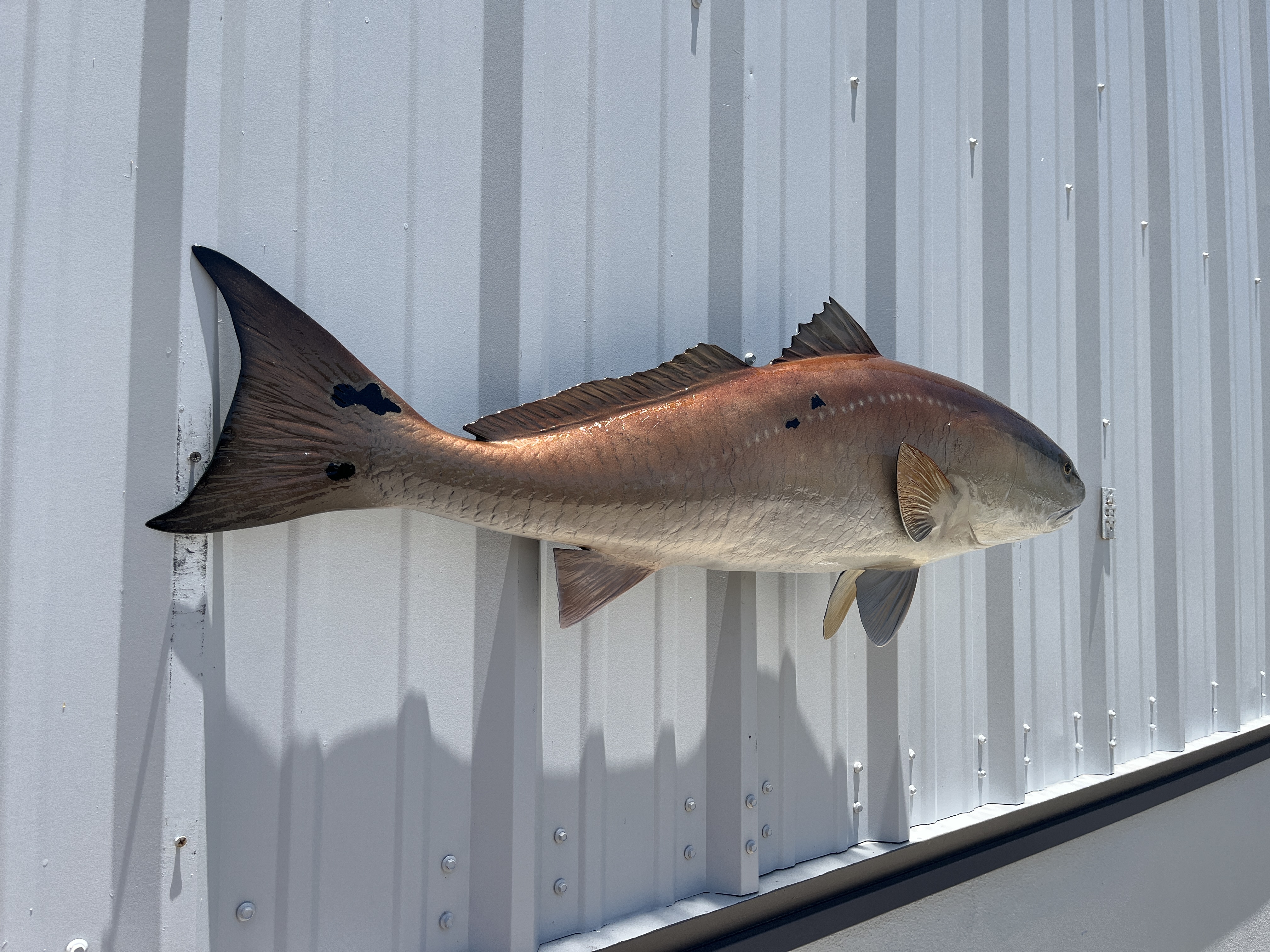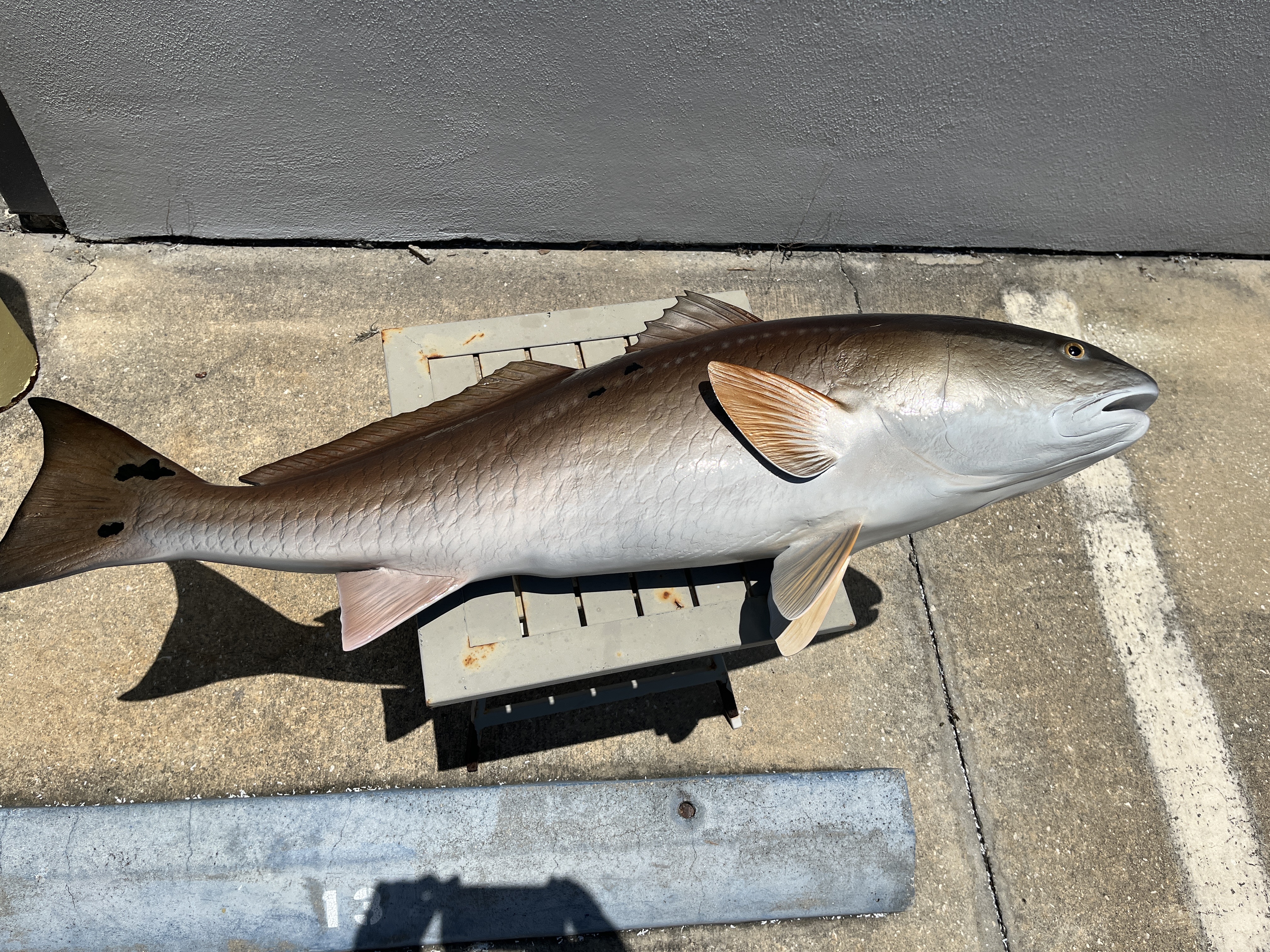 Invoice # 23025 - 20" Smallmouth Bass Full Mount Fish Replica - Customer Provided Proof Pictures - Outside pictures taken to showcase the coloring used but also to show the scale detail